Annette Kennedy is a 2022 University of Toronto honorary degree recipient, recognized for her significant impact on nursing around the world. Though she recalls not having a "grand plan" to become the leader she is known to be today, Kennedy's role as a champion of universal health care, human rights, and the capacity of nurses to be leaders in healthcare speaks volume to her commitment to creating lasting change.
"There is always a solution," says Kennedy referring to any challenge she has faced throughout her career including fighting to make nurses more visible. "Nurses are not always great at talking about the lives we save everyday or advocating for ourselves, but we need to realize it is a long game that requires patience, passion, and persistence. We need to be a collective of voices."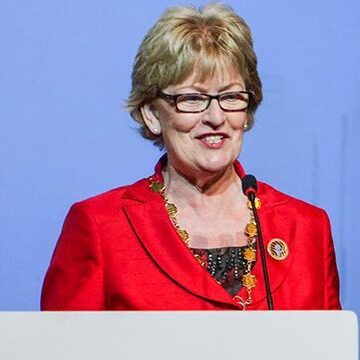 On November 9, Kennedy will speak to the collective impact of nursing leadership, at the Lawrence Bloomberg Faculty of Nursing's annual Verna Huffman Splane Lecture. Her talk titled, We are Nurses – a global perspective on nursing, healthcare and the economy, will see Kennedy highlight the ways in which global nursing organizations like the International Council of Nurses (ICN), are uniquely poised to make broader connections in the world of healthcare.
In 2017, Kennedy was appointed President of the International Council of Nurses representing 28 million nurses worldwide and led the organization through the toughest years of the COVID-19 pandemic until the end of her term in 2021. In this role she was also an integral member of the Nursing Now campaign with the World Health Organization (WHO) where she successfully helped to establish a Chief Nurse role and advocated for regional CNO's in all ICN member countries.
Kennedy who grew up in a farming family in the west of Ireland, did not intentionally plan to become a nurse. Career options for young women at the time were limited to teaching, nursing, banking, and religious life. While becoming a nurse was a practical decision, it was one that she soon fell in love with because of the difference she was able to make each day in the lives of her patients, and the collegiality it offered her with her peers, something she realized could be harnessed for the better.
"I've always been interested in the broader picture of health care, not just a narrow picture of nursing," says Kennedy. "I realized that negotiation between policy makers, and authoritative bodies, was one of the ways we as nurses, could enact change."
In the early stages of her career, Kennedy helped establish newer ICU's in hospital, helping to source and find mechanical ventilators and other necessary equipment on a limited budget. This stalwart approach and unwillingness to back down in the face of a challenge, continued in her role with the Irish Nurses and Midwives Organization (INMO) and eventually as President of the European Nurses Federation which oversaw 6 million nurses across the continent.
"I have never been one to be static, you need to keep moving in order to effect change," says Kennedy of her career path. "I had a lot of freedom once in the INMO to bring new ideas to the forefront, and to gather an international perspective that I felt was necessary to the advancement of the nursing profession."
Nursing as a profession is often synonymous with caring and nurturing, effectively unpaid "women's work". That gender imbalance is something Kennedy feels is significant contributor to the invisibility of nursing and its integral role providing health care.
"People don't recognize that we save lives too. Everyday we save lives. Whether through early interventions to prevent complications, or overseeing preventative measures like cancer screening, we are invisible," says Kennedy. "More nurses saved lives during covid than anyone else. There is a lack of recognition of that."
Under her leadership as President, the International Council of Nurses sought to focus on collaboration with other organizations particularly the WHO. It is a significant accomplishment under Kennedy's tenure that nurses and the ICN were invited to meetings with the Director General of the WHO and stronger connections were built among member countries particularly in relation to sharing knowledge during the emergency stages of the COVID-19 pandemic. Through the ICN, countries received important guidelines or recommendations about COVID-19 and the ICN was subsequently made aware of issues nurses were facing around the world, from a shortage of PPE to unsafe working conditions, or the sizable and growing nursing shortages.
"No country is isolated, we have seen that through COVID-19, climate change, and war," says Kennedy. "Nurses see the impact of these broad global concerns first-hand, and they need to be involved in responding to them, they need to be heard."
Though Kennedy's term as President of the ICN is complete, she has not backed down from advocating for the power of nurses to be changemakers. In May 2022, Kennedy met with Pope Francis at a conference on human trafficking, a broad and increasingly devastating global issue.
Nurses, Kennedy says, can break the chains of human trafficking because they are the ones who will likely see victims first, and recognizing the signs of trafficking will enable them to prevent further abuse and further victimization.
"We can make a difference," says Kennedy. "It's a matter of persistence."