Verna Huffman Splane Lecture: Annette Kennedy
November 9, 2022 @ 4:00 pm

-

6:00 pm

We are Nurses – a global perspective on nursing, healthcare and the economy
Featuring Annette Kennedy, President Emeritus of the International Council of Nurses (ICN)
Wednesday, November 9, 2022
4:00 pm – 6:00 pm | Health Sciences Building, Rm 610 | 155 College Street, Toronto ON
Join us virtually and view the livestream
Reception begins at 4:00pm
Keynote Address begins at 5:00pm
Join us for our annual Verna Huffman Splane Lecture featuring renowned nursing leader Annette Kennedy, a 2022 University of Toronto honorary degree recipient and President Emeritus of the International Council of Nurses (ICN).
Annette's keynote address will focus on the interconnected relationship between health services and the economy including how collective action among nurses and international bodies like the ICN, can create lasting change for nurses and health systems worldwide.
The Verna Huffman Splane Lecture is made possible through the Lawrence S. Bloomberg Faculty of Nursing's Verna Huffman Splane Fund, an endowed award named after Verna Splane, a public health nurse who lived to be 100 years old, and whose legacy sought to encourage continued support for public health nursing. The award was created through a generous gift by Dr. Richard Splane and the Splane Family.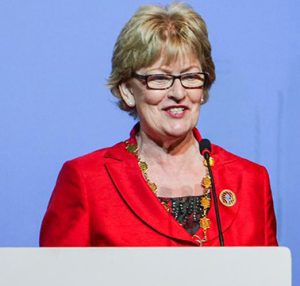 Annette Kennedy is President Emeritus International Council of Nurses (ICN). Currently working with Santa Marta Group and other organisations on modern slavery and human trafficking and is also an advisor to the Women in Global Health Ireland committee.
Annette Kennedy was 28th President of ICN 2017 -2021 representing 28 million nurses after serving four years as Vice President. She was appointed Commissioner on the WHO Independent High Level Commission on NCD's (2017- 2019).
Annette served as a member of the Nursing Now Campaign Board (2018-2021)
Annette was a Ministerial appointment to Slaintecare Advisory Implementation Committee, 2018-2021 (Irish Government Health & Social Care 10-year Strategy).
She is a former President of the European Federation of Nurses Associations (EFN), an independent organisation consisting of Nursing Associations in over 30 European countries, representing over six million nurses.
Annette served on University College Board and on the National University of Ireland Maynooth. She is a registered Nurse and Midwife with a Dip in Management and a BA in Nursing Studies and an MSc in Public Sector Analysis. Annette received an Honorary Fellowship from the Royal College of Surgeons in Ireland (RCSI) in 2017 and Honorary Doctorates from Dublin City University 2020 and was named one of the 100th most outstanding women nurse and midwifery leaders 2020 by Women in Global Health& WHO. She received WHO Director General's Global Health Leaders Award from Dr. Tedros in 2021 .