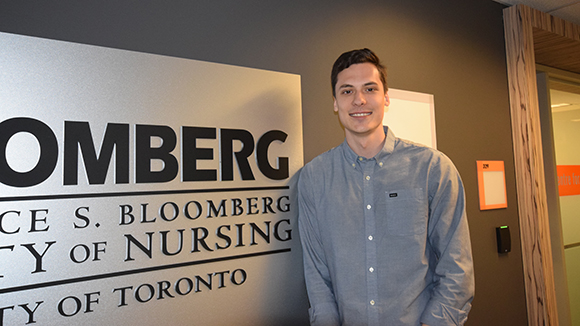 Morgan Hempinstall
1st year, BScN student
Hometown: Ottawa
Current town: Toronto
Interests & activities
I'm interested in working out, staying fit and going to the gym. I'm in the guitar club at U of T. I've been playing guitar since grade 9. Self-taught, but my dad also played so I grew up around music.
Why did you want to become a nurse?
I've always been interested in healthcare and medicine and have been interested in working in a hospital environment. I wanted to work directly with people so I thought nursing would be the perfect opportunity to engage with patients and be in that kind of environment that allows me to connect with people.
What kind of nursing are you interested in practicing?
I enjoyed my pediatrics rotation – the developmental range from 0-18 years old, the variety of working with different ages. I liked that I could care for an infant in one moment and a 13 year old the next. I also really enjoy critical care/emergency – there is so much variety, it keeps you on your toes – no two cases are the same.
What is the most valuable lesson you've learned so far at the University of Toronto?
I learned the harder you work, the luckier you get. Luck doesn't just come out of thin air – it takes hard work.
Who is your favourite Bloomberg Nursing Professor?
It's a tie between Zoraida and Jordana. Each prof is the epitome of what they teach. They epitomize what they teach and both really give it their all.
What's your favourite thing about nursing that you've learned so far?
The amount of time you get to spend with your patients and the amount of time you get to spend on the floor. Nurses are always there, always just a call bell away. You're very present and you can form relationships with your patients.
How do you plan to celebrate Nursing Week?
I plan on attending the various events the Faculty is holding, and the RNAO event. Also – Cinnabon gives free cinnamon buns to nurses every day this week!