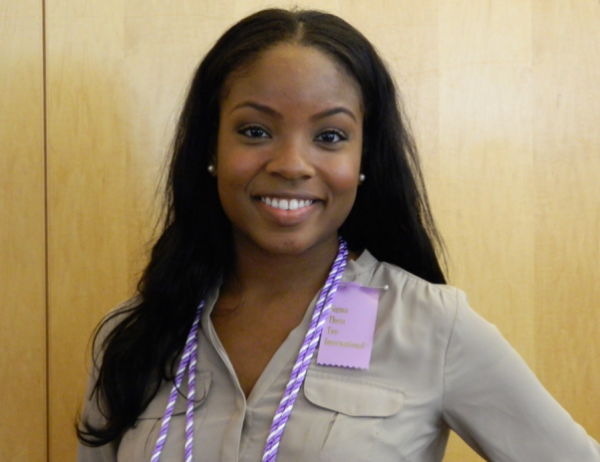 Lauren Gabrielle Johnson
Pre-doctoral candidate
University of Pennsylvania
3rd year of doctoral program (graduating August 2017)
Interests, activities, clubs and professional organizations: Leisure traveling (have visited over 25 countries), Yoga, Cooking
Hometown: Ewing, NJ
Current town: Philadelphia, PA
Why did you/do you want to become a nurse? From a young age, I always thought that I was going to become a doctor. I entered college as a premedical student and spent the first two years completing the required coursework. However, I learned through shadowing and mentoring experiences that the role of a doctor was not exactly what I had imagined. I was interested in more direct care and wanted to be closer to the bedside so I transferred into the nursing program. I have been a registered nurse for two years now and regard my choice to change career paths as one of the best decisions of my life. Although my current trajectory is steering me into academia, I plan to continue working at bedside on a per diem basis.
What is your favourite thing about nursing? I enjoy the endless opportunities that are afforded in nursing. Many nurses will change their roles throughout their career and choose to work in a diverse range of settings and specialties. However, a nursing education shows you how to heal people in a holistic manner, which reaches way beyond the bedside. Nurses also play vital roles in public health, health policy, health education, and much more.
How do you plan to celebrate nursing week? I plan to engage in self-care. We as nurses spend tremendous energy in taking care of others and often neglect to do the same for ourselves. It is important that we take the time to relax and reflect. We cannot take care of others if we are not functioning at our best.
What is the best thing about your job: The best part of my nursing job is seeing the physical, emotional, and spiritual progress towards healing that occurs during a patient's hospital stay. Although the outcomes are not always favorable, it is fulfilling to know that you have done everything in your power to make that hospital experience the best that it can be for that patient and his or her family.
Favourite quote: Love is patient, love is kind. It does not envy, it does not boast, it is not proud. It does not dishonor others, it is not self-seeking, it is not easily angered, it keeps no record of wrongs. Love does not delight in evil but rejoices with the truth. It always protects, always trusts, always hopes, always perseveres. (1Corinthians 13:4-7)