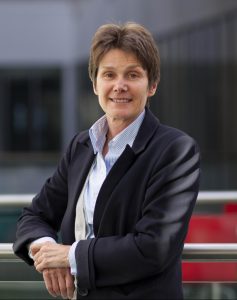 Dr. Karen A. Luker, FMedSci, PhD, BNurs has been appointed the 2017-2018 Frances Bloomberg International Distinguished Visiting Professor. Over the course of this professorship, Dr. Luker will engage faculty, students and academic healthcare facilities in the areas of health services research, home & community health care, carer support needs and promoting the impact of research. She made her first visit in November 2017 and will visit our Faculty three more times throughout 2018.
The current Queen's Nursing Institute Professor of Community Nursing at the University of Manchester, Dr. Luker obtained a B. Nurs degree from the University of Manchester.  She completed a PhD in Social Science and Nursing at the University of Edinburgh.  She also serves as the Deputy Director of the NIHR CLAHRC for Greater Manchester NHS Trusts and the University of Manchester.
Dr. Luker is a Fellow of the Academy of Medical Sciences and was awarded a fellowship of the Queen's Nursing Institute in 2003, and in 2010 was awarded an Honorary Doctorate in Medicine from the University of Lund Sweden and in 2011 an Honorary DSc from University of Alberta Canada in recognition of her contribution to health care research and research capacity building.
She has reviewed on a wide range of national and International research committees including MRC Health Services and Public Health Research Board and three RAE/REF Panels and equivalent panels in New Zealand (PBRF).  In 2016, she received a CBE in the New Year's Honours for her contribution to Nursing. From 2017-20 she is a member of the Swedish Research Councils Health Sciences Review panel.  In addition, she edits the Journal Health and Social Care in the Community published by Wiley/Blackwell Publishing.  Dr. Luker has published widely in the area of Community Nursing, Cancer and palliative care and has been a visiting professor at the University of Auckland and Hong Kong University.
We are delighted to welcome Dr. Luker as the 2017-2018 Frances Bloomberg Distinguished International Visiting Professor. Details about her future visits will be made available in the coming weeks.