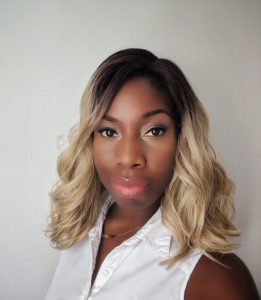 Denika McPherson has learned that she can overcome hard things. The Master of Nursing graduate from the Lawrence Bloomberg Faculty of Nursing, has faced a series of challenges throughout the past two years at the University of Toronto, but she has still found an opportunity to be grateful for what she describes as memorable moments.
Prior to a shift to online learning brought about by the pandemic, McPherson thrived as a teaching assistant in the Nursing undergraduate program, it gave her immense satisfaction to be able to have a positive impact on future nurses.
"Seeing students grow and their faces change as they realize they have mastered something especially in our simulation labs, made me so proud," says McPherson.
Soon however, everything for McPherson and her cohort changed.
"I lost my placement," says McPherson, "and there was a lot of fear and panic among our cohort about how this would impact our graduation. Would we be licensed? Would our employers count a virtual placement?"
At the time, the Faculty of Nursing began offering online placements in a virtual simulation lab through Bloomberg Clinic, a virtual simulation where faculty members set-up patient scenarios and students collaborated to perform their patient assessments virtually. The College of Nurses of Ontario agreed that these placements would be considered equivalent to in-person placements and McPherson says she did her best to be flexible and open-minded to this new way of learning.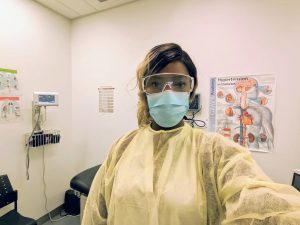 In addition to navigating her new online world, McPherson like many graduate nursing students, was also working part-time as a critical care nurse in the ICU at North York General Hospital. Juggling the intensive clinical work with her schooling took both an emotional and physical toll.
"I would cry when I got home, that never happened prior to the pandemic. Those intense patient encounters stayed with me," says McPherson. "You can't just put that aside and jump into your homework, you have to reflect and process these emotions. Using the University's resources like MYSSP where I could text a counsellor or schedule phone appointments alongside speaking with my family and friends, were all a huge support for me."
With the ongoing uncertainty, McPherson wanted to get back to feeling involved with her peers and the community at the Faculty of Nursing. She volunteered her time to sit on committees and town halls, liaising with faculty members about improvements to the online learning environment and bringing concerns from his students to faculty leadership.
She also participated in the Summer Mentorship program, a shared initiative across the health sciences faculties, inviting high school students to consider their options for careers in health care.
Her active involvement and energy earned her a U of T Student Leadership Award, and allowed her to feel like she was back on track, making the most of her experience and having a positive impact on her student community.
Having been a nurse for a decade, McPherson is excited about this next chapter in her career. Graduating as a nurse practitioner, she is now working in acute care at the University Health Network and applying her new-found knowledge and resilience into her practice.
"My path is still writing itself," she says.
To current nursing students McPherson shares some words of wisdom.
"Being committed to excellence is what got us into U of T, but self-compassion and taking care of your mental health is what will get you through," says McPherson. "Look out world, not even a global pandemic could stop us."