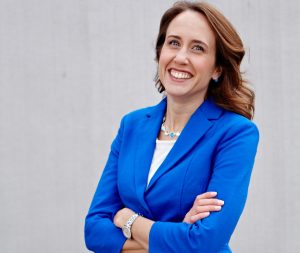 Assistant professor Kristin Cleverley, is the 2021 recipient of the Council of Ontario University Programs in Nursing (COUPN) Scholarship into Practice Award recognizing the impact of her research in improving youth mental health.
Cleverley, who is also the CAMH Chair in Mental Health Nursing Research, collaborates with stakeholders in hospital and community settings to better understand barriers to access and continuity of care when it comes to youth mental health.
"It's an iterative process where I'm listening, co-designing, and collaborating," says Cleverley. "For me, it's about building relationships with health care partners and youth in exploring ways to evaluate and scale up interventions that improve continuity of mental health care."
Mental health care needs of youth, Cleverley notes, are diverse. Though approximately 1 in 5 youth have at least one mental health condition, research has shown that almost 50% experience discontinuity of care as they transition between providers at age 18. As a result, Cleverley works to ensure that models of intervention are studied in collaboration with multiple partners, including youth and their caregivers, to better understand the barriers they may face when they access care and as they transition between care providers.
"When I think about how I implement my research into practice, my "aha" moments come from working with youth and their caregivers," says Cleverley. "They have the insight needed in the creation of realistic and practical tools to implement change."
A project Cleverley has been very passionate about is the evaluation of the navigator program which focuses on the role of the transition navigator in ensuring successful mental health care transitions for youth aged 16-18. The program prioritizes transition goals and engages youth as co-designers in their care, helping to determine and address barriers to transitions. The NEAT study focuses on evaluating the role of navigators, who offer short term intensive support to youth in order to make sure that they did not fall through the cracks of the mental health system.
On the horizon, Cleverley is excited about co-designing a tool kit to enhance the navigator model and make it more accessible. She also credits the graduate students at U of T Nursing with whom she works closely, for their integral work in helping to put knowledge into practice.
Being nominated for and receiving the 2021 COUPN Scholarship into Practice Award is a testament to U of T Nursing's and COUPN's value of research and its integration into practice says Cleverley.
"It is also a testament to fact that nurses who do research can have impact on practice in a variety of ways whether that impact is big or small."