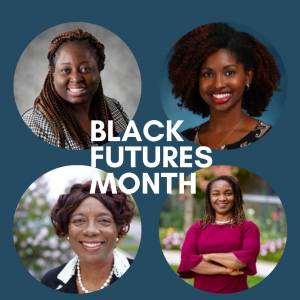 A first of its kind health care focused event series celebrating Black Futures Month, is being led by students at the Lawrence Bloomberg Faculty of Nursing and will feature alumni and Black nursing scholars from across Canada.
Black Futures Month is a celebration that takes place alongside Black History Month and stems from the Black Lives Matter Movement. It looks to the future of Black communities through art and scholarship. The intention is to shift the focus from historical narratives, and instead celebrate and emphasize Black innovation from nursing experts and highlight the important work they are leading to confront anti-Black racism, ensuring safer healthcare environments for Black communities.
"Anti-Black racism is deeply embedded in the clinical algorithms we are taught, the policies of the institutions we work in, and the education system we move through," says Priya Prabhakar, an undergraduate nursing student. "We hope participants will come away with practical strategies and a renewed sense of their responsibilities as healthcare providers to push for change."
Much of the groundwork leading up to the creation of this event series has been fostered by the commitment of the graduate and undergraduate students at U of T Nursing to call attention to the inequities faced by Black students and Black colleagues in the nursing profession.
Throughout the past year the students have added their voices to the increasing volume of calls around the world to address systemic anti-Black racism. The student societies have published anti-racism statements, made calls to action for students and faculty, and have collaborated with the Faculty of Nursing to create a Black and Indigenous graduate student scholarship.
"We are hopeful these actions will help facilitate much-needed dialogue within the health care system and amongst health care leaders as we strive to celebrate the achievements of Black nurses," adds Master of Nursing student Ramzia Ashrafi.
The opening webinar for this month-long event series features alumnus Dr. Bukola Salami. Her talk will focus on the impacts of Covid-19 on Black communities and she will also co-present a virtual panel on Black Youth Mental Health alongside five Black youth leaders. They will discuss the need for the creation of improved access to culturally appropriate mental health services.
On February 11, Keisha Jefferies, a Black feminist nursing advocate and PhD candidate at Dalhousie University, will discuss equity in post-secondary admissions and research and advocacy in nursing.
Another U of T Nursing alumnus, Dr. Angela Cooper Brathwaite is the third speaker in the series. On February 18, she will lead a discussion on lived experiences of racism and discrimination in the workplace. Dr. Cooper Brathwaite is also the past president of the Registered Nurses Association of Ontario (RNAO).
The event series will close with Dionne Sinclair, the newly appointed Multi-Site Director of Diversity and Cultural Advancement with Southlake Regional Health Centre and Orillia Soldiers' Memorial Hospital. Sinclair will focus her discussion on being a culturally competent leader in health care.
Speaking of the importance of this event series, Master of Nursing student Chantal Campbell says examples of Black excellence need to be celebrated not just in February but all year round.
"These discussions around anti-Black racism are important for us all to take part in," says Campbell. "In addition to deliberately seeking the involvement of Black scholars and leaders in nursing, we are all responsible for the dismantling of long-standing systems of oppression."
For more information on how to register for the Black Futures Month Webinar Series, please visit: https://bloomberg.nursing.utoronto.ca/event/black-futures-month-webinar-series/