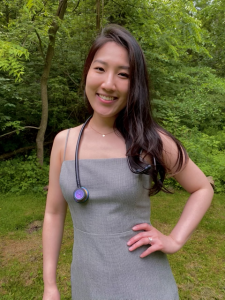 Yukei Ng, a BScN student at the Lawrence Bloomberg Faculty of Nursing, is the winner of the 2021 Sopman Humanitarian Award, presented by the University Health Network. Selected from a group of seventeen nominees, Ng is recognized for her support and compassion while providing patient care as a student nurse, alongside her excellence in academics.
"I feel like I am in my element," says Ng of her time in the nursing program. "The one thing that stands out for me is connecting to patients, it gives me a sense of fulfillment to help someone on their path to healing."
The Sopman Humanitarian Fund seeks to encourage humanity, compassion, understanding, and the ability to communicate among nurses and doctors in training at the University Health Network. Named after the late Belle Sopman, the award was established by her husband Archie Sopman in recognition of the humanitarian care given to his wife by a student nurse.
Ten years ago, Ng applied to nursing school, but unfortunately she did not get in.
"At the time I felt like maybe it wasn't meant to be, so I went and did a bunch of other things instead, only to find my way back here, to the Bloomberg Nursing Faculty at U of T," says Ng.
To keep herself in the realm of healthcare, Ng worked as a treatment coordinator for the Toronto Centre for Liver Disease, part of Toronto General Hospital. There she recalls observing patients who had had this disease, sometimes for decades, experience a sudden life change, because of a diagnosis or treatment that helped improve their quality of life.
That was the spark for Ng, seeing how health care workers could impact a patient's life. That same drive has filtered into her rotations as a nursing student where she found that connecting with a patient can set the tone for the kind of care she is able to provide, allowing her to catch something that might otherwise be missed.
During one of her placements, Ng was caring for a Spanish speaking patient whom she noticed was withdrawn and seemed lonely. Unable to speak Spanish herself, Ng decided to use Google translate to communicate with the patient and find out what was going on.
"It turns out the patient was feeling really lonely and unsure about their health," says Ng. "Their family was worried, but the patient could not properly explain to them the type of procedure he was going to have."
With approval from her preceptor, Ng found a Spanish language document online that helped to explain the procedure to the patient and his family.
"He was very appreciative, and all it took was a little bit of effort on my part to help him feel more secure," says Ng.
That kind of compassion and humanity in her care, is not hard to come by for Ng. She often sees her own family in her patients and thinks about how she would want them to be treated. For Ng it makes the effort of connecting with patients, no real effort at all.
While Ng is eager to continue working on her unit, she also envisions herself completing a graduate degree in the future, extending her capacity for caring beyond the bedside and into the wider system of health care.
"I feel like this is what I was meant to do," says Ng. "Winning this award means a lot and will always serve as encouragement for me to do the best that I can and to be as competent and compassionate as I can be."