Nightingale.ai, an interdisciplinary Toronto-based startup, wants to revolutionize physiotherapy for those who are recovering from orthopedic surgeries. This online tool, using vision-based artificial intelligence, is one of five winning pitches from U of T's Hatchery 2021 Demo Day competition.
Read about all five U of T start-ups
For patients who have had hip or knee replacements, the Nightingale.ai platform can detect and calculate with precision, a patient's range of motion as well as the angles between joints, allowing physiotherapists to assess how a surgical incision is healing, or how a new joint is working. They are then able to provide recommendations for treatments and exercise, or an in-person consultation as needed, all while the patient remains in the comfort of their own home.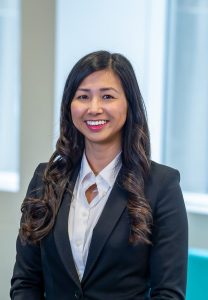 "Canadians are aging and with that comes a predictable increase in the need for orthopedic surgeries and subsequent post-surgical rehabilitation and physiotherapy," says Charlene Chu, co-founder of Nightingale.ai and an assistant professor at the Lawrence Bloomberg Faculty of Nursing. "Nightingale.ai can help remove barriers to access for rehab and physiotherapy for these future patients because of its ability to provide remote care at a lower cost."
According to data presented by the Nightingale.ai team, 1 in 5 patients who have had their knee replaced end up with a rigid knee after surgery, a condition that can severely limit mobility, and that those who do undergo rehabilitation are often dissatisfied with their care. A lack of access to physiotherapy because of cost or commute times, can lead patients to lapse in their treatment, causing further complications in mobility and negatively impacting a patient's quality of life.
"There is a bigger vision for Nightingale.ai in that we want to shift the cost infrastructure of how physio and rehab are offered by making it accessible, cheaper, and faster so people can recover from home," says Chu.
Chu notes that this democratizes physiotherapy and rehabilitation because patients who may be uninsured or who face mobility challenges, are provided with appropriate follow-up care. For hospitals and health care institutions this cost-saving platform allows providers to track patient recovery in real-time with data auto-integrated into the physiotherapists workflow.
The team behind Nightingale.ai also includes Sameer Chunara (CEO, physiotherapist), Donovan Cooper, Manager of Site Operations at Altum Health); Meng-Fen Tsai (BME PhD candidate), and Chao Bian (BME PhD candidate).
Chu says the idea for Nightingale.ai began in 2018 with the name for the platform inspired by historical figure Florence Nightingale, a pioneer in the nursing profession, who Chu says was able to see and make sense of data that nobody else saw.
"Florence Nightingale was able identify important pieces of information and make a coherent picture that would be clinically relevant," says Chu. "That is essentially what Nightingale.ai does with algorithms. It assesses movement, detects information, provides analysis and informs clinical decision making."
The Nightingale.ai team plan to use the funds earned from the Hatchery competition to further develop and test their algorithms before heading to clinical trials.
Of the Hatchery experience, Chu says it was rewarding to see interest build in their idea over time and the potential of the technology to do more.
"This was a really great experience to be a part of and it shows the potential of working in interdisciplinary team," says Chu. "I hope my experience encourages nursing students to think about entering the Hatchery competition. There is a definite need for nursing expertise."