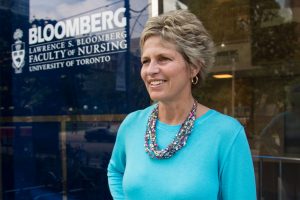 Monica Parry, a leading researcher in improving the health-related quality of life for women with heart disease, is the recipient of the AMS Healthcare Fellowship in Compassion and Artificial Intelligence, a $75,000 funding opportunity that aims to support research at the intersection of compassion, technology, and equity.
Parry, an Associate Professor at the Lawrence Bloomberg Faculty of Nursing, is the creator of at heart, a progressive web app designed to help women self-manage their heart disease and cardiac pain and symptoms with a digital intervention that includes support from a Chatbot named 'Holly'.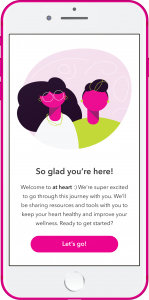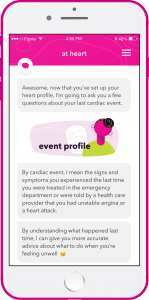 "Women with cardiac pain and cardiac symptoms are under-diagnosed and under-treated," says Parry, "at heart was designed to help women recognize and manage their cardiac pain and symptoms through an easily accessible web app."
With help from the AMS Healthcare Fellowship, Parry will be seeking to enhance 'Holly's' ability to bring compassionate care to women through more bi-directional communication. Recent evidence suggests text Chatbots can help establish trust and empathic understanding with end-users.
"We want to utilize 'Holly's' artificial intelligence so that it can conduct enhanced conversations with women, including asking questions about their emotional state of health, using text to voice or voice to text, and allowing users to personalize 'Holly' so the Chatbot can provide appropriate support and feedback," says Parry, who has also worked extensively as a cardiovascular surgery nurse practitioner.
Parry and her research team will be conducting a rapid review of literature to determine how Chatbot simulated conversations have been shown to improve health outcomes for patients with cardiovascular disease. She will be working with an MS Cloud Architect, Healthcare Human Factors experts, and a compassion mentor to establish Holly's new features.
"In our previous systematic review and focus groups, we found that women with heart disease have difficulty interpreting and managing their symptoms, making decisions, living life, and finding a way to a more stable place following their heart event," says Parry. "at heart was intended to help shift some of that decision-making to allow for more support and management for women with heart disease."
Currently, Holly is considered a uni-directional, rules-based Chatbot, asking questions and responding to women's answers according to rule-based algorithms. Holly can also search a library of lay summaries and published papers on women's heart health and self-management techniques, created by Parry and her research team. In addition to these features, the Chatbot also provides access to Wellness Checks for women, helping them to better understand and manage their symptoms for improved health and wellness.
At the initial log-in, 'Holly' asks women a series of questions about their last heart event, which is stored as an Event Profile. On subsequent logins, 'Holly' asks women for a Heart Check, a series of questions to determine if they are experiencing acute cardiac symptoms. The Chatbot recommends next actions depending on women's responses, including calling an ambulance if their Heart Check is determined to be high risk, or similar to their Event Profile.
"Women often delay seeking appropriate care," says Parry, "at heart encourages women to seek assessment at the closest emergency department."
A recent report from the Lancet Commission states there has been a reduction in mortality for women with cardiovascular disease in all high income countries except Canada and the United States, where the decline in mortality has stagnated. In Canada, cardiovascular disease is one of the leading causes of premature death for women, with 78% of women missing the early signs of a heart attack.
"Part of the reason for this is a lack of awareness among women that heart disease has impacts across the life course, influenced by unique risk factors that include pregnancy and menopause," says Parry. "at heart is one of the few digital health interventions available for women with heart disease and it is the first web app to be created for and driven by women."
A systematic review and meta-analysis conducted by Parry and her team found that women's cardiac pain and symptoms could be improved with women-only interventions, goal setting, and support from a health care provider. Women in their focus groups appreciated a focus on wellness, support from Chatbot 'Holly', and seamless access to the web app across multiple devices.
"This fellowship will provide an opportunity to build a conversational Chatbot who uses emotionally intelligent linguistics and demonstrates compassion," says Parry. "Developing therapeutic relationships is a standard of care in nursing. I am hoping that 'Holly' and the at heart web app improves health and wellbeing and advances the quality of healthcare for Canadian women living with heart disease."