Simulation learning can be like a choose your own adventure story. There are multiple decision points or branched pathways for a student to consider when they are in the simulation learning environment. This allows them to make clinical decisions while learning, providing them opportunities to see the outcomes of their actions, without fear of harming a real-life patient.
"Simulation allows students to make mistakes and get messy, try things as they learn, and make big decisions," says Erica Cambly an Associate Professor, Teaching Stream at the Lawrence Bloomberg Faculty of Nursing. "Many of my students will comment on how much better prepared they were for a situation in clinical practice because they had already been exposed to something similar in a simulation and received feedback."
Cambly, who is also the lead of the Simulation Team in the BScN program, has received a grant from the Colleges and Institutes of Canada (CICan) Virtul-WIL program funded by the Government of Canada to create enhanced games for simulation learning for health sciences students, including nurses.
Virtual simulation requires users to be involved in optimal decision-making within a strategic setting, much like video games. Game theory is something that Cambly is using in her development of three new "games" or virtual scenarios, as part of a Canada-wide simulation project involving a partnership between Simulation Canada and CICan.
She and her colleagues have developed their simulation games using best practices in pedagogy and simulation and have been proactive in ensuring these scenarios include marginalized populations who might be seeking care, such as LGBTQ2S individuals and those from racialized communities.
Designing the scenarios to be inclusive and diverse, is a huge part of this project, Cambly says, as historically nurse educators have found it challenging to find resources that are representative of all people.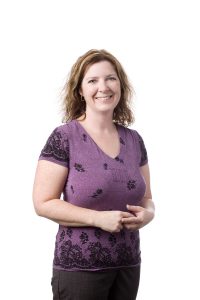 "We need to make sure we are providing students with the right tools to care for all patients," says Cambly. "Simulation learning, whether it happens in-person in a lab or remotely, is an integral piece of nursing education. It gives students the opportunity to think critically and learn from the decisions they make. And it gives them an opportunity to practice or experience clinical situations that we cannot guarantee they will be exposed to while in their placements."
One of the simulation scenarios that Cambly and colleagues are currently developing pertains to the care of a non-binary patient, who speaks a language other than English and is not able to respond verbally. The patient is actively dying, with their condition deteriorating over the course of a shift in the hospice. Students work through the simulated scenario making a series of decisions about this patient's care along the way.
"For the learner, this type of a scenario involves making decisions around how to communicate with the patient, types of pain medications they will be providing, and other nursing interventions like how and when to touch the patient to promote comfort," says Cambly.
To develop just one scenario like this for simulation, involves an array of components starting with the development of learning outcomes. Creating the storyline, the questions and dialogue that will form the pathways, decision points, and working with artists to develop the graphics for the simulation are all part of the work.
"With these types of scenarios, our goal is to capture the learner's interest so that they want to learn more and engage with the decision points," says Cambly. "That is where the game theory, or narrative arc, becomes important in our development. We also need to embed a rationale behind each decision point so that the learner understands why something is happening to their patient based on their decision and the simulation path they chose to follow."
In addition to providing complex patient scenarios for learners to practice their skills, Cambly's work with CICan will aim to provide learning access to students across Canada, including those in remote communities. Each of the scenarios is designed to be used on a computer, tablet, or smart phone, and doesn't necessarily require an in-person lab component. The design allows students to go back and try again, if they want to get better at dealing with a specific scenario, or if they needed to make better decisions for the patient.
This hands-on approach that simulation learning provides, is one of the key reason's Cambly became a simulation instructor, and it is one of the core principles of her teaching practice in nursing.
Next steps for Cambly and her team will be to see these simulation scenarios piloted to over 6000 students in multiple health disciplines across Canada.
"Simulation learning is gaining popularity, and while it doesn't replace in person, on the job learning," says Cambly, "it is a unique opportunity for health science students to build their confidence and learn to provide the best care for patients in need."