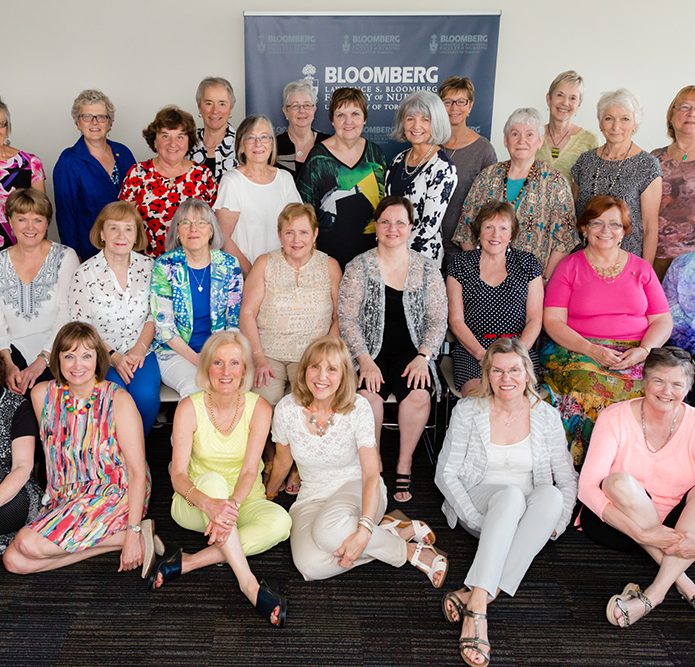 What do people do to celebrate their 50th anniversary reunions?
That was the question on retired nurse Allison Stuart's mind as she opened her U of T Alumni Reunion invite celebrating the Class of 1971. She knew she wanted to do something noteworthy, something different, and so Stuart approached her former classmates with an intriguing idea.
What if they could raise enough funds as a class to support student nurses in need?
"That idea really resonated," says Stuart, who attended U of T's Faculty of Nursing from 1967-1971. "At this stage in our lives, we want to contribute to something meaningful."
Alongside former classmate Ginger Brown also a retired nurse, Stuart and the remaining 60 members of the Bloomberg Nursing Class of 1971 raised over $30,000 dollars to establish The Bloomberg Nursing Class of 1971 Undergraduate Award. This endowed fund is aimed at supporting undergraduate students in financial need, while each year, the intended student will receive $1,971 in honour of the class' graduating year.
"Nurses do not tend to be fundraisers," says Brown, "but we do have a propensity for things that are tangible, and for which we can see an impact, which is why right out of the gates, we had such a momentous response."
"I am very impressed by the Class of 71's fundraising efforts," says Linda Johnston, Dean of the Lawrence Bloomberg Faculty of Nursing. "It is a testament to not only their bond as a class, but their connection to the field of Nursing. I am thrilled our students will benefit from their generosity and leadership."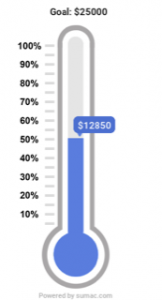 To create a self-sustaining endowed award one that would provide the type of lasting legacy the Class of 71 was aiming for, Brown knew they need to raise at least $25,000. It seemed like an insurmountable goal, but together, Stuart, Brown and the Advancement team at Bloomberg Nursing, came up with the idea of a visual reminder, using the illustration of a rising thermometer to keep track of how much money was being raised. There was, Brown says, a sense of urgency about whether they would reach their fundraising goal by the date of their 50th anniversary celebration.
"I was concerned early on, that we might not even reach the half-way point of our target, but I was pleasantly surprised," recalls Brown. "Some of our classmates were heavy lifters, giving large sums, then asking family and friends to join in. This spurred momentum in everyone else to give just a little bit more."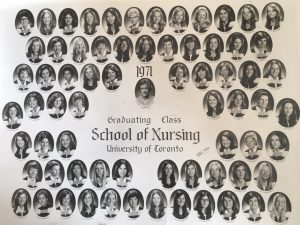 The Bloomberg Nursing Class of 71' shares a unique bond that has helped them stay connected over the past five decades. They entered university in an era of change and recall many moments where they were united in standing up for their values or "rebel rousing" to change the system, including what they were allowed to wear.
"Skirts and nylons were required in the classroom in those days, but in 1971, people started wearing hot pants!" says Stuart. "That was a huge change to be a part of as a class. We also were required to buy six custom made uniforms, but we fought that and only bought three, I think the school was shocked."
Stories like these were shared back and forth over the winter months of the pandemic by Stuart, Brown and classmates, along with memories of weddings, babies, and grandchildren. This helped to rekindle a sense of loyalty as well as serve as a reminder about their feisty, undergraduate days. For many of them, this class was their original nursing family, and choosing to leave a legacy, is how they are hoping to nurture and sustain that connection.
"We have a real appreciation for that time we had as a class, and we value our ability as nurses to continue supporting the next generation," says Brown.
The award she notes, is a testament to a sense of pride they share in the nursing profession and serves as recognition for the many challenges facing nurses today.
"Looking back over the past 50 years, our time at U of T made a huge difference in how our lives unfolded," says Stuart. "This small amount will make a difference for someone and allow them an opportunity that we all cherished so greatly."
For the Bloomberg Nursing Class of 71, building on that sense of accomplishment is something they are eager to continue, and hope to encourage further donations to top up the award for years to come.
"The current students are part of our family now," says Brown. "I think it is really special to have an entire alumni class supporting current students."