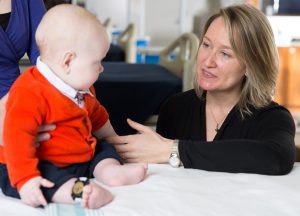 Getting enough sleep with an infant can seem, at best, elusive. And while we would like to have more sleep, most of us shrug our shoulders and embrace an exhausted state as a rite of passage into parenthood.
U of T baby sleep expert Dr. Robyn Stremler suggests a different approach.
"Sleep is important not just for cognition and mood but also for the physiological mechanisms of the body, like blood sugar regulation and metabolism, and infants reap those benefits as well," says Stremler an Associate Professor at the Lawrence Bloomberg Faculty of Nursing and an Adjunct Scientist at the Hospital for Sick Children.
As a member of the Pediatric Sleep Council, a group of international pediatric sleep clinicians and researchers, Dr. Stremler will be taking part in an event for Baby Sleep Day, recognized internationally on March 1, as part of an initiative to raise awareness about the importance of sleep even for the youngest members of society.
Dr. Stremler has conducted research into nurse-led interventions during the early post-partum period as well as ongoing research projects that look at improving sleep for families who have children and babies in the NICU and PICU and who are undergoing treatment for cancer. She also runs infant sleep workshops through the Sinai Health System, where she teaches expectant parents about the importance of sleep during the postpartum.
To raise further awareness about the significance of sleep and in light of the challenges many parents are facing during the pandemic, Dr. Stremler shares some of her expertise.
What are some of the challenge's parents face when it comes to infant sleep?
A lot of parents I have worked with know they are going to miss out on sleep, but they do not know what is normal and often for new parents, they do not know what to expect. Infants' sleep changes so much over the first year particularly in how their sleep is organized. We know infants' circadian rhythms start to move sleep more into the night-time at around three months of age, but, one of the biggest challenges with infant sleep is that every day can be different.
Growth spurts can really disrupt sleep, and they tie into more night feedings, or cluster feedings for a parent who is breastfeeding. Pain and discomfort from teething can also be another issue that impacts sleep. We also find that when an infant is sleeping it is tempting for parents to want to use that time to get work done instead of prioritizing sleep.
During my research study investigating a nurse-led intervention to improve sleep during the postpartum period, we talked with parents about the importance of their sleep because it really is as much of a priority. When some of these challenges around infant sleep happen night after night, it can be easy for parents who are sleep deprived to get into negative thought patterns. Whether you have children or not, everyone can relate to the feeling of not having enough sleep. Not only is your mood and cognitive function impaired, but how you interact with others is impacted, and this also has links to postpartum depression.
What are some tips and strategies you might suggest?
In my prenatal classes I encourage expecting families to talk with each other and prepare in advance a plan for how they are going to access resources when the going gets tough. This also includes learning to recognize signs of postpartum depression as it can affect not only the birth parent but supporting partners as well. It is hard when you are in the thick of things to know when to reach out for help.
I suggest working through a plan before birth that includes identifying who your health care provider is and how to contact them if PPD signs start to appear. Also consider who in your support network is available to call on to deliver meals to the porch or diapers to the door even if they cannot help you in person. I also ask parents to plan for how they will take care of themselves, if your partner is able to be at home with you during the pandemic, prioritize something restful for yourself.
It is important to remember that sleep is a behaviour. One of the things I suggest for new parents is to be as consistent as possible with infant sleep, including setting up an environment and a routine that is conducive to sleep.  This can help decrease the number of sleep interruptions for infants as young as 6 or 12 weeks old.
To set the tone for sleep, create a brief enjoyable bedtime routine that your infant can rely on. This can include a cuddle and a song or a story just before they go to sleep.
Keep the sleep environment cool, dark, and quiet. This is important for parents and children of all ages.
Remember that sleep is not a competitive sport, and there will be blips in the road, but give yourself flexibility and a reminder that it will pass. I often remind parents not to compare themselves or get caught up in how someone else's infant is sleeping. You have to do what feels right for your baby and your family. I encourage parents to look at other markers of good sleep like if your baby is happy during the day and growing well.
How has the pandemic impacted sleep for parents and children of all ages?
I think there has been a bit of mix in how the pandemic has affected sleep. There are a good chunk of people reporting difficulty with sleeping due to anxiety or stress including not having the same access to a support network of family and friends that they might have had pre-pandemic.
As for parents of older children, increased screen time due to remote learning and less activity overall has also likely had a negative impact on sleep.
At the same time, the increased flexibility around remote learning and working from home for parents has shifted bedtime and wake-up schedules. For children who had difficulty with falling asleep at bedtime or struggled to get up in the morning before the pandemic, their families have found improved sleep with more relaxed schedules and decreased commutes.
Everything works better when you have more sleep, so prioritizing it as much as possible and doing things to help yourself and your child, even in the midst of the challenging time we are living in, can provide real benefits.