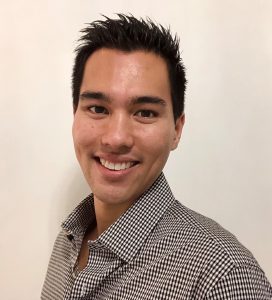 For Richard Tang, building lasting relationships with his peers has helped to shape his career in nursing. A 2021 winner of the University of Toronto Arbor Award, Tang is being recognized for his dedicated volunteer service to the Lawrence Bloomberg Faculty of Nursing, something he believes has made a significant impact on his time as a student and alumnus.
"Giving back not only enriches your student learning experience it also allows you to transform your professional identity as you engage with current and future nurse leaders," says Tang, who graduated from the BScN program in 2017.
The Arbor Awards are one of the highest honours given to volunteers by the University of Toronto. They acknowledge a volunteer's contributions and service to the University community and beyond, and celebrate the individual's generosity of spirit.
One of Tang's first volunteer roles was as Director of Health Promotion for IMAGINE, a student-run clinic supported by various health science faculties at the University of Toronto. This clinic engages and supports marginalized individuals and populations by providing barrier free access to health care through outreach teams.
"It was a meaningful experience, and it has certainly influenced my current role as a nurse," says Tang.
In addition to his role at IMAGINE, Tang has volunteered his time assisting the Faculty of Nursing on a variety of initiatives, including participating in the 2018 Fall Campaign, partaking in the accreditation review for the Faculty's education programs, and most recently providing insight and feedback as part of the Faculty's rebranding process.
However, none of these tasks have impacted Tang and his growth as an individual as much as his role in Bloomberg Nursing's student mentorship program.
As an alumnus, Tang has volunteered as a mentor for Bloomberg Nursing's Networking with Nurse Leaders series, an opportunity for current nursing students to connect with those already working in the field.
"I am big on mentoring. Sharing my journey with new nursing students as a new graduate, and offering advice and insight into different practice settings, was something that really stood out for me," says Tang. "It is a wonderful mutual learning opportunity for both the mentor and the mentee."
Tang has since returned to the Faculty of Nursing to partake in the Master of Nursing, Nurse Practitioner program and even with his busy schedule he continues to make time to volunteer. Though many might find the additional workload associated with volunteering daunting, Tang believes that the key to getting involved is finding an activity that truly speaks to you, so you are more inclined to make time for it.
"I'm fortunate that I have an appreciation for mentorship and have benefited from it myself, so I am able to ensure I make time to get involved," says Tang. "For soon to be graduates or current students, I would invite them to figure out what it is they are passionate about and find a way to give back to the Faculty."
As for Tang, he intends on maintaining a life-long connection to Bloomberg Nursing by continuing his volunteer work and perhaps taking additional courses through the Centre for Professional Development.
"By staying connected you can be a part of meaningful change at the Faculty," says Tang.