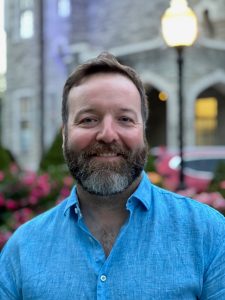 Chris Handley a U of T graduate with a degree in economics and international relations, is used to the sounds and smells of the lumber retail business he runs, a family operation that has been passed down for four generations. A legacy of his great-grandfather who Handley says had a pioneering spirit, the success of this lumber retail operation that began in the 1930's has allowed Handley, who originally hails from Fenelon Falls Ontario, to give back to the University of Toronto and support future generations of nurses.
The Lulu Johnston Memorial Scholarship at the Lawrence Bloomberg Faculty of Nursing was created in 2022 to honour Handley's late maternal grandmother Lulu Jesse (Nesbitt) Johnston and to help students aspiring to be nurses realize their dreams.
Lulu Johnston was accepted into a practical nursing program in a hospital in Lindsay Ontario, but due to the constraints and responsibilities on the family farm, she wasn't able to pursue that career path.
"My grandmother was a wonderfully caring person, and I wanted to recognize the challenges that she faced trying to go into nursing in a rural community," says Handley. "She wasn't able to pursue that dream, but I hope that through this scholarship in her name, will allow others to do so and support health care in rural communities through nursing."
As a student at U of T Handley was also recipient of donor awards, he was a Canadian Merit scholar throughout his undergraduate program and later received donor support during his graduate studies. It is because of that support he says that he also feels the strong need to support students during their university education.
"Receiving that support put me in a position to pursue graduate education, and really became a key part of my success," says Handley. "Being able to pay that forward to students now and also keep the legacy of my grandparent alive is a gift."
Handley believes strongly that scholarships and bursaries can help ensure that students receive the encouragement and support they need to succeed in higher education. The Lulu Johnston Memorial Scholarship is also intended to help bridge a divide between the provision of health care in urban centres versus rural communities.
Recipients of the scholarship are students who have either had experience in rural health settings or are determined and eager to contribute to rural health care in the future.
For Handley, it isn't just about finding more nurses it is also about bringing cutting edge knowledge and practices to communities outside large, urban centres.
"If we're willing to recognize students with rural backgrounds or those with a passion for providing health care in rural areas, and their understanding and experience, I hope that also means we will be able to support those rural communities with the best and brightest coming out of Bloomberg Nursing," says Handley.