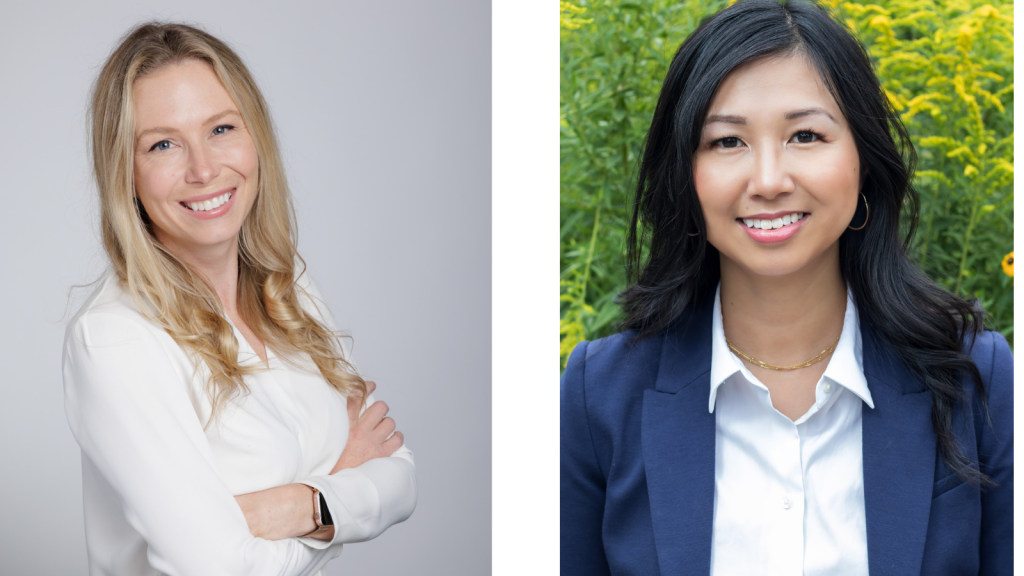 Assistant Professor Charlene Chu and Assistant Professor Lindsay Jibb, of the Lawrence Bloomberg Faculty of Nursing, have each been awarded a 2023 Research Fellowship in Compassion and Artificial Intelligence from AMS Healthcare.
AMS Healthcare is a leading organization, helping to advance quality and compassionate healthcare for all Canadians through innovations in technology.
The one-year fellowship program focuses specifically on promoting the integration of digital technology and compassionate care into the delivery of health care services, by recognizing leaders and innovators, such as Chu and Jibb, whose work addresses the health care challenges facing Canadians, from the very old to the very young.
"The most exciting aspect of the AMS fellowship for me is the mentorship and the formalized opportunity it provides to learn from experts in a range of disciplines from Canada and beyond, including leading engineers from Carleton University and Imperial College London in the UK, a bioethicist from Germany, patient and caregiver," says Chu.
Chu's project is in partnership with KITE- Toronto Rehabilitation Institute at the University Health Network and involves using a multi-modal sensor system called MAISON to monitor older adults who are newly discharged from hip fracture surgery and recovering in their own homes. Dubbed the "MAISON x Hip fracture" project, Chu and her team use a variety of sensors and wearable technology to gather important data on what physical and social recovery looks like for older adults after discharge from rehabilitation, hoping to gain a better understanding of recovery trajectories and whether their experiences reflect a good standard of recovery.
Once the data is gathered, Chu and her team hope to use concepts of machine learning as well as the input of older adults, to co-design a prediction model that accurately reflects and weights the data that is important to older adults in terms of their recovery.
"Currently, we do not have a clear picture of the standard of care that is provided to older patients following their discharge for hip fracture surgery," says Chu. "We don't yet know how their living arrangements, type of dwelling, gender, or even neighbourhood, might impact their recovery or their risk of experiencing another hip fracture."
Research shows that individuals who have previously had a hip fracture and fall again, are at a significantly higher risk of being admitted to long-term care and have a higher risk of mortality. Chu's use of machine learning aims to predict who needs more support to ensure they can reintegrate back into the community after discharge, is imperative to enhancing care for older adults in the community.
"We are using technologies to monitor recovery indicators, but most importantly, this research actively includes older adults' perspectives in the co-design process of developing these technologies and its algorithms to best support hip fracture recovery," says Chu.
This aspect of co-design is also reflected in Assistant Professor Lindsay Jibb's AMS Healthcare funded project. A prominent researcher in children's cancer care, Jibb is working to co-design a mobile app that supports parents in managing their child's cancer pain at home.
"We know that cancer pain is highly distressing for both parents and children, but if we can leverage technology to ease that burden and distress than we are achieving AMS Healthcare's goal of implementing compassion into healthcare technology," says Jibb.
To build the mobile app, Jibb and her team at the Hospital for Sick Children are currently conducting a needs assessment with parents to determine their priorities, and to eventually open the door to future customization of the app using artificial intelligence.
The current intervention will feature algorithm-based instructions that tell parents what they can do to manage their child's pain, in addition to using medications. This might include belly breathing, stretching, or engaging in mindfulness sessions, with advice targeted to parents based on the age and developmental stage of their child.
"We have heard from parents how important it is for them to have an opportunity to stay connected with their child's care team when not in hospital, and to feel supported in managing their child's illness. We are hopeful that this technological intervention will help meet that need," says Jibb.
For both Chu and Jibb, the AMS Healthcare Fellowship in Compassion and Artificial Intelligence is undoubtedly a unique opportunity that not only supports and funds their research but allows them to gain more expertise in the intersection of health and technology.
"Not only will this fellowship deepen my lines of inquiry on my existing projects, but I believe what I gain in terms of knowledge will be in perpetuity, allowing me to also broaden the knowledge of my graduate students with what I learn about the innovative opportunities within digital health," says Chu.