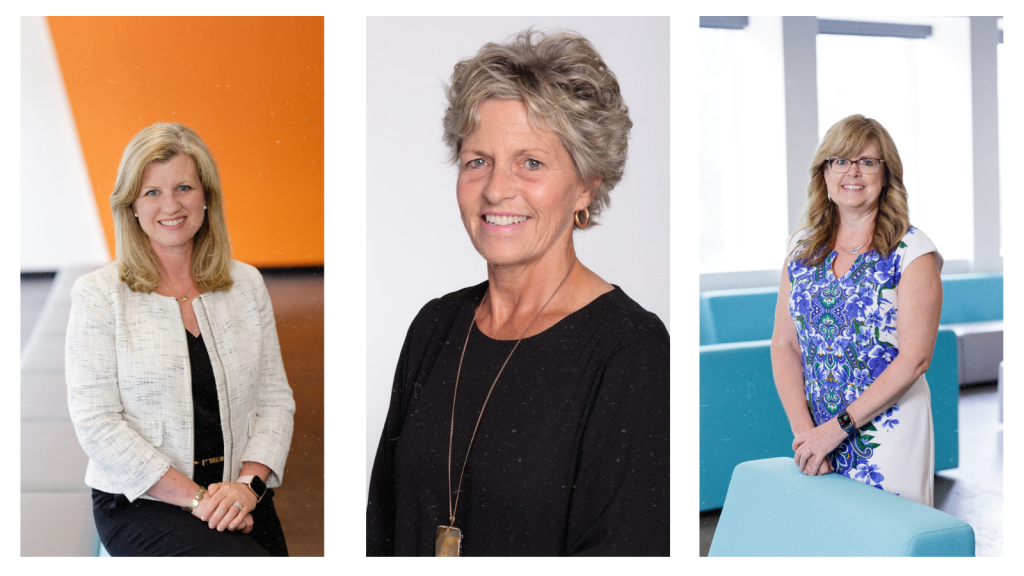 Three internationally renowned nursing researchers from the Lawrence Bloomberg Faculty of Nursing Professor's Kelly Metcalfe, Monica Parry and Kimberley Widger, have been named to the 2023 Class of Fellows of the Canadian Academy of Nursing.
The Academy, which is housed within the Canadian Nurses Association (CNA), recognizes the outstanding contributions of leaders in the field of nursing science and the impact of their work on the health of Canadians.
"We are very proud of our Bloomberg Nursing faculty members for this achievement. Their induction as Fellows to the Canadian Academy of Nursing is a reflection not only of their impressive careers as nurse scientists, but also as thoughtful and empowering educators here at the Faculty of Nursing," says Linda Johnston Dean of the Lawrence Bloomberg Faculty of Nursing.
Kelly Metcalfe, a professor and the associate dean of research at Bloomberg Nursing is also a senior scientist at Women's College Hospital. She conducts groundbreaking research that has improved the lives of women with a genetic predisposition for breast cancer. Some of her earliest research consisted of the first population-based studies examining outcomes associated with bi-lateral prophylactic mastectomy, including cancer-risk estimation and psychosocial outcomes. She has also played a leading role in developing a cancer prevention pathway for women with a high-risk of BRCA-related breast cancer by advocating for greater access to genetic testing.
"I'm passionate about saving and improving the lives of women who have an elevated risk of breast and ovarian cancers," says Metcalfe, "It is an honour for my work and its impact to be recognized by the CNA and to be named among the many accomplished nurse scientists across the country."
Monica Parry, a professor, practicing nurse practitioner, and member of the Global Cardiovascular Nursing Leadership Forum, aims to reduce the global burden of cardiovascular disease in women by 2030. She has led the development and testing of innovative interventions including web apps and a chatbot named Holly, to help women improve knowledge, symptom recognition and management of their heart disease, especially those who live in rural or remote settings.
"Women with cardiac pain and cardiac symptoms are under-diagnosed and under-treated," says Parry, "that's why it is imperative we continue to address this gap with our research, and I am grateful for the recognition that the CNA is providing through the fellowship."
Kimberley Widger, a professor, Canada Research Chair in Pediatric Palliative Care, and Nursing Research Associate with the Pediatric Advanced Care Team (PACT) at the Hospital for Sick Children is recognized by the CNA for advancing research, practice, and policy around quality of care for children with life-threatening illness and their families. Widger's research has provided guidance on policies related to access to PPC services leading to service expansion, and enhanced quality of palliative and end of life care for children nationally through an education roll-out for health care professionals.
"Being recognized by the CNA is an honour, and I am pleased that the work I do to achieve health equity for children with life-threatening illness and their families, is being highlighted on a larger scale, as we continue to work to ensure children receive the care they need and deserve," says Widger.
Each of the Fellows is committed to fostering excellence and achievement in research among Bloomberg Nursing's PhD students, as they empower and support future generations of nurse scientists who will go on to contribute to the improvement of health of people across Canada and the world.