At the Lawrence Bloomberg Faculty of Nursing, faculty members lead research that makes a difference. The Faculty is at the forefront of ground-breaking and collaborative research that drives improvements in patient care and health outcomes, as we look to shape the future of nursing together.
In the newly released 2020-2022 Research Report, Celebrating Nursing Excellence – This is Nursing in Action, readers are invited to share in a preview of Bloomberg Nursing's refreshed brand identity, soon to be launched in 2023, and stories that feature nursing perspectives on research that is often overlooked, like quality pediatric palliative care, student and youth mental health, postpartum depression in fathers, and the need for fundamental changes to the nursing workforce.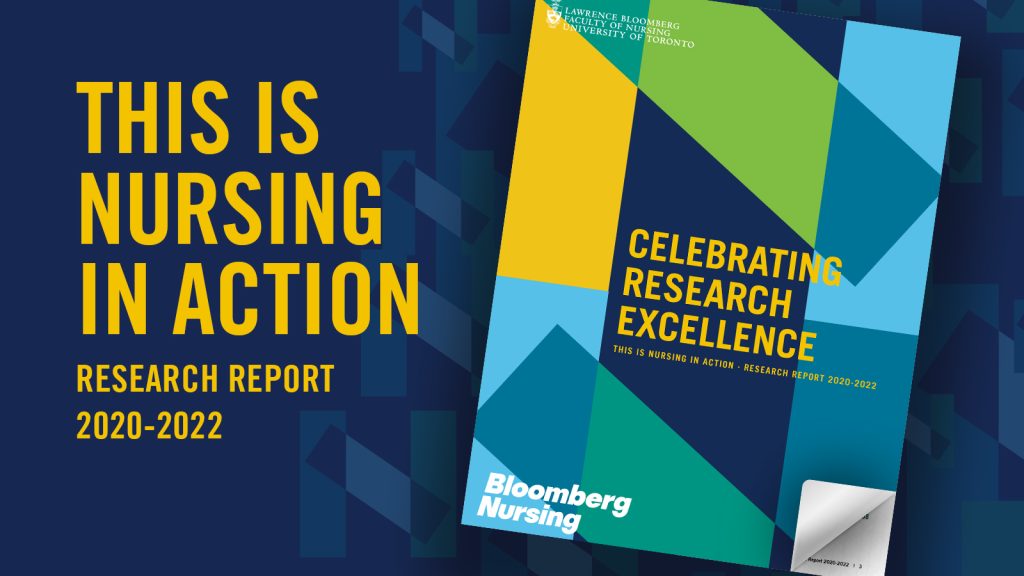 "Our report brings into focus the importance of the nursing perspective and our faculty's unique capacity for leading research that makes a significant impact in our health care system," says Kelly Metcalfe, Professor and Associate Dean of Research at Bloomberg Nursing.
Some of the stories in this report are focused on the importance of understanding and exploring mental health outcomes in our patient populations, from children with chronic conditions to grieving families, new parents and even nurses themselves.
The report also showcases our exceptional students and faculty, such as the first nurse to become President of the Canadian Academy of Health Sciences, and doctoral students who are seeking new ways to support the health of Indigenous populations, cardiovascular health in South Asian populations, and cancer patients in the ICU.
"Our faculty's innovative research strives to develop bold solutions for the complex challenges facing society today," says Linda Johnston, Dean of Bloomberg Nursing. "This report is a culmination of their ongoing and integral work in keeping Canadians healthy, and we can't wait to see what the future of nursing research uncovers."
Read the full Research Report online, or pick up a copy in the Health Sciences Building, in the Dean's Suite.