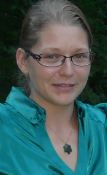 Bloomberg Nursing PhD candidate Kristine Newman is the recipient of the 2012 Research Award from the Nursing Leadership Network of Ontario (NLN.ON). It supports nurse researchers conducting research into issues important to nurse leaders. It will fund Newman's study titled, "The exploration of critical care nurses' use of accumulated knowledge and information-seeking for non-routine tasks."
"It is an honour to be the recipient of the NLN.ON Research Award," says Newman. "I am very grateful for the support and recognition of my work, and I will use the award towards data collection for my PhD thesis."
Newman's background is in rehabilitation nursing, nursing education and professional practice. Under the supervision of Professor Dr. Diane Doran, her current area of study examines how a nurse's perception of his/her problem-solving abilities, context and personal characteristics affects the relationship between the non-routineness of a task and how the nurse seeks information or uses accumulated knowledge.
Nurses complete routine and non-routine tasks during patient care to promote the recovery or maintain the health of patients. This research is significant because critical care units are dynamic environments where decisions are often made by nurses under stress and time pressures because the patient's status changes rapidly. Critical care nurses' work includes complex nursing tasks that are non-routine, requiring them to problem-solve and seek information from other resources promptly. It's therefore important critical care nurses are able to complete patient care tasks safely, effectively, and efficiently under any circumstance.
Newman recently published preliminary findings in Dynamics: The Official Journal of Critical Care Nurses in a paper titled, "Critical care nurses' information-seeking behaviour during an unfamiliar patient care task," co-written by Doran.
The NLN.ON promotes the educational activities related to the professional development needs of nurse leaders and promotes research activities related to nursing leadership issues. The NLN.ON Research Award is awarded annually to a recipient who demonstrates significant research initiative in the area of nursing leadership.
NLN.ON is an interest group of the RNAO that inspires, promotes, and influences nursing leaders and nursing leadership through innovation, integration and collaboration.