With a career as a Nurse Practitioner, a marriage, two kids, aging parents and a mortgage, Laura Istanboulian wondered if she was too old or if it was too late to pursue her doctorate in nursing science. Yet it had been her constant dream to complete her PhD, and she was motivated as a nurse to situate her research around her patients, specifically a decades old communication problem that exists in the ICU – between individuals who require a ventilator and their health care providers.
To address this issue, Istanboulian made it her objective to reframe communication as something essential to a quality patient experience, by co-designing and implementing a bundled communication toolkit for ICU patients as part of her PhD at the Lawrence Bloomberg Faculty of Nursing.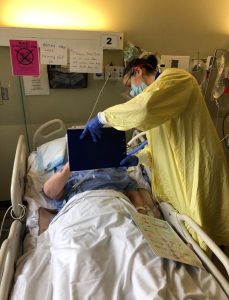 The bundle is a portable, multi-modal set of tools that Istanboulian co-designed with nurses, patients and their families. Each item it contains is evidence-based in supporting the communication needs of patients, including alphabet boards, blank boards for writing on, writing tools like markers and pencils, a pain scale, a basic needs scale, and some pre-translated boards in multiple languages.
No tool is of use without education, so the bundle also contains six short evidence-based education modules for staff to gain a better understanding of how to use each tool option to best support a patient.
"I was not trying to invent something brand new, these tools existed already but it became necessary to have them contained in one convenient and accessible location, and to also make providers aware of the need to make an effort to communicate with ventilated patients," says Istanboulian.
When a patient is on a ventilator even though they might be awake, no air can pass over their vocal cords, meaning that they cannot speak. They might make communication efforts, Istanboulian says, but that requires both interpretation and time from the health care provider which is not always available. Some patients may also have cognitive impairments or brain dysfunction from their illness or medical condition, making communication that much harder, and their fear at not knowing what is going on, even more palpable.
Istanboulian notes that limited communication with a patient can also affect care providers.
"It can be intimidating caring for someone when you cannot explain what it is happening to them or understand what they are trying to say," she says.
Istanboulian recounts a moment when she used these communication tools on her unit to try to understand one of her clients, who could not speak and could not hear.
"On the blank board he wrote 'thank you so much for taking the time.' I took a photo of that, and it hangs by my desk, because it is a reminder that this effort to communicate really mattered to this person, and it also tells me that this doesn't happen as a rule," says Istanboulian.
"As nurses and physicians, we might be doing the best for them medically but if patients don't understand what is happening to them, they can feel very unsafe and alone."
Piloting and developing the communication bundle was not without its challenges, especially as Istanboulian began her PhD just as the COVID19 pandemic began to unfold.
"Laura overcame significant obstacles posed by the global pandemic to complete her doctoral research," says Craig Dale, Istanboulian's supervisor, and an Associate Professor at Bloomberg Nursing. "She designed, implemented, and evaluated this communication support intervention for mechanically ventilated adult patients in the ICU and the outcome of her research has the potential to be implemented in ICU's worldwide, a positive impact that extends well beyond the pandemic."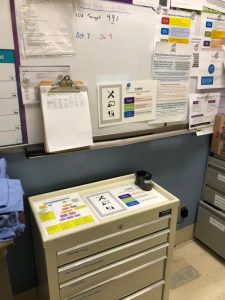 Despite the challenging time, and the constantly shifting policies around visitor and isolation requirements for the ICU, Istanboulian found most families, patients, and nurses were more than willing to participate in the co-design process of her communication bundle.
"They really wanted to engage in this process, which was so profound to me, because it showed how much everyone wanted to see this issue of communication addressed," says Istanboulian.
Families and caregivers provided helpful tips for nurses on providing phone updates on loved ones, and nurses were able to speak to what they would find most helpful in using the bundle, including how to easily spread some of the online tools in the kits easily across the hospital using the internal intranet.
The success of this communication bundle has meant that Istanboulian is eager to work on scaling up the bundle so that it is accessible to larger units in hospital, and eventually she hopes across multiple hospital sites within the health system.
Istanboulian says one of the key lessons she learned from the project was that the bundle does require tailoring to local environments in order to meet the needs of the end users. She is currently working with an international group of researchers who are developing core outcomes for communications research in critical care, and recommendations that will assist in scaling up the bundle to larger units.
Her work with researcher Dr. Kelly Smith, a healthcare quality and patient safety specialist, will also help to determine how patients and family members interpret communication as a safety issue and help reframe communication from something Istanboulian says many people see as a "nice to have," to something more essential.
Now as Istanboulian embarks on life after her PhD, which includes ongoing research and a new position as an assistant professor at Toronto Metropolitan University, she has a lot of people to thank for helping her make it this far.
"My wife was my number one, she was always making space for me to be able to write or research. My supervisor, Professor Dale and my clinical supervisor were so supportive of me not only conducting the research but maintaining my clinical practice, and my parents, were so proud of me," says Istanboulian.
"I'm not sure everyone is as fortunate to have that level of support and I think that this was really the recipe for this dream becoming a reality."