Richard Tang, (he/him) a student in the Master of Nursing program at the Lawrence Bloomberg Faculty of Nursing, has led the co-creation of a new simulation – a type of experiential learning – for undergraduate nursing students that is focused on providing specialized care to the 2SLGBTQIA+ community.
Tang, who recently won the poster competition at the Canadian Association of Schools of Nursing (CASN) Conference for this simulation project, was motivated to create the new simulation to bring queer health to the forefront of the nursing simulation curriculum, and to positively impact the queer community.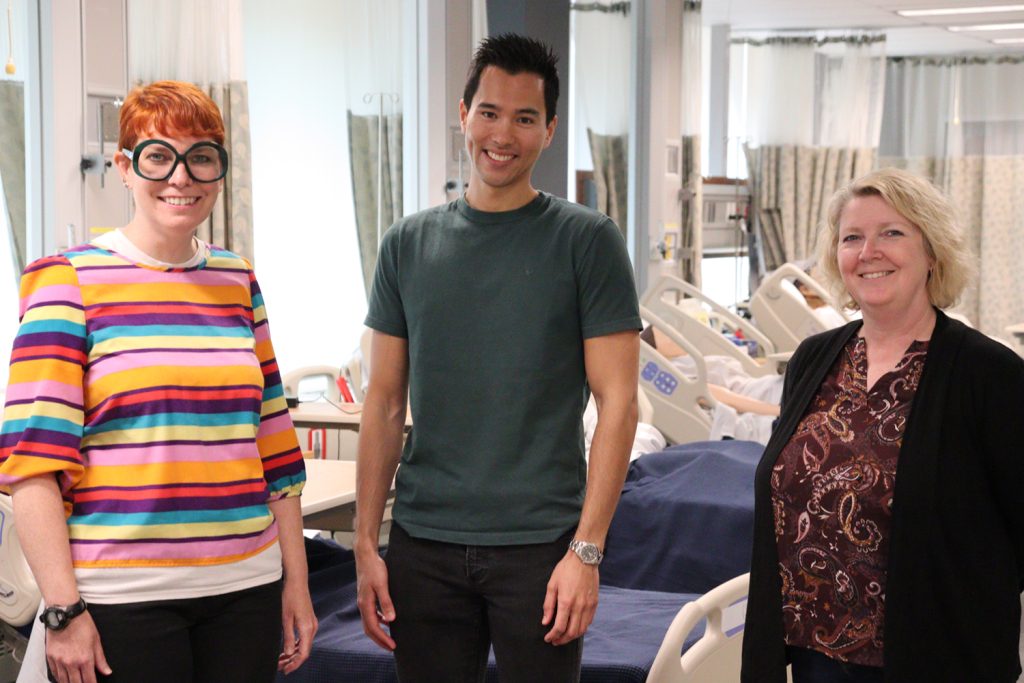 "Gender dysphoria is an ingrained conceptualization in the care that is sometimes provided to the transgender community, and we wanted to shift that perspective among our nursing students," says Tang.
Learning in a simulation environment, adds Tang, provides students and educators a chance to understand best practices for trans care and identify preexisting assumptions and biases without harming or traumatizing a patient.
The new simulation module takes place in the community health unit of the Bloomberg Nursing Simulation Lab which can be transformed into a home care setting. Faculty collaborators, including Assistant Professor Laura Fairley(she/hers) and Assistant Professor Erica Cambly(she/hers), helped to create the simulation environment that features a client who is a trans man recovering from top/chest surgery at home. Using one of the state-of-the art mannequins complete with drainage tubes and the ability to speak (voiced by Assistant Professor Fairley), students learn how to care for the client through what Tang describes as a joyous and gender euphoric approach to care.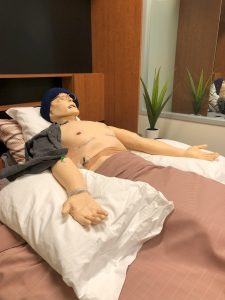 Students must also address some of the complex challenges that arise for their client, which include management of post-operative complications, lack of access to a primary care provider, as well as the need to address additional social determinants of health.
"In all of our current work in the simulation lab we lay a solid theoretical groundwork for students to learn how to provide trans competent care," says Fairley, who is a nurse with extensive experience caring for people recovering from transition-related surgeries. "What is unique about this new simulation, is that it goes beyond the theoretical and allows for students to visibly challenge cisnormativity and recognize that trans healthcare is ubiquitous in all types of nursing."
Fairley further points out that members of the trans community experience significant discrimination when attempting to access transition-related medical care, but with Toronto considered a national hub for transition services, this is a specific type of knowledge that nurses will need to know, whether in primary care, the ER, acute care, or home care settings across the province.
Creating a new simulation like this requires intense collaboration, from the development of the story line and preparatory materials to the input of community members that it impacts. In addition to both Cambly and Fairley's expertise in simulation learning and trans health care, a member of the trans community was also invited to review the simulation for accuracy alongside community health nurses with expertise in transition-related care.
Cambly, who leads the simulation curriculum at Bloomberg Nursing, says that the clear standards and best practices for developing a simulation which include looking for hidden biases and ensuring that there are clear learning objectives, are what help make a new simulation rollout successful.
She says this particular simulation was piloted with first- and second-year students in the undergraduate BScN program, with students being given an opportunity to debrief and provide feedback about how the simulation flowed, and what could be done better.
"I think one of the things we noticed during the pilot was that the students were really pleased we were doing this work and making this simulation available to all students," says Cambly. "Some of our students are living with transphobia, or have seen examples of it in their everyday life, and they see how important this knowledge is for health care providers."
The new simulation will likely be ready to be added to the 2023-2024 nursing curriculum, an important step in ensuring students are well-equipped to provide equitable and inclusive health care.
For Tang, this opportunity to blend his passion for teaching and simulation learning with a chance to make a positive impact for students and the queer community is beyond rewarding.
"I'm reassured that we are headed in the right direction in achieving these community practice goals," says Tang. "We are not only making positive changes to the curriculum but also addressing the diverse needs of the populations we, as nurses, serve."