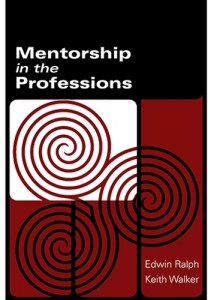 Mentorship plays a significant role in training nurse practitioners (NPs) for their new role. It's a chance to build competencies and confidence through rewarding mentor-protégé relationships. Robert Ralph, MN 1T1, is a recent graduate of Bloomberg Nursing's NP program's adult area of emphasis. He used his clinical learning experience under the guidance of a physician in critical care to contribute a chapter to the book, Adapting Mentorship across the Professions.
The book explores the effectiveness of the Adaptive Mentorship (AM) model, which utilizes a confidence and competence continuum grid for student development. When applied, it balances levels of support and difficulty of the task with the student's confidence and competence. Ralph is one of 35 authors to discuss his mentorship, focusing on the key aspects and strengths of the AM model.
"I really wanted to share this truly special lived experience because it was beyond anything I had previously encountered in my professional training," says Ralph, a flight nurse with Saskatchewan Air Ambulance. "I found I was empowered to develop skills and learn from a unique perspective."
In the chapter, "Dismantling Barriers: Mentorship in Emerging Nurse-Practitioner Roles," Ralph explains that effective preceptors offer a high level of career and psychological support. Success is dependent on the bond forged between the mentor and protégé, and establishing shared goals and beliefs. He requested Dr. Susan Shaw, director of critical care in the Saskatoon Health Region, to act as his preceptor and she agreed.
Ralph suggests "a certain level of trust must exist between the partners." Working with Shaw, he felt included as a contributing member of the health team. She allowed him to make clinical decisions and assess outcomes with her professional oversight, bolstering his professional growth with encouragement and support.
Shaw describes a lack of understanding between doctors and nurses that exists because they "train in almost complete isolation from one another." This unawareness applies to each profession's core values, unique cultures and specific strengths. "Inter-professional practice requires inter-professional education," writes Shaw. "If students from different professions learn together, they will likely work better together," which will result in improved quality and delivery of care.
The AM model worked for Shaw because it was sensitive to the fact that they would not always have perfect learning conditions. In addition, it allowed her to adjust task and support responses to Ralph's task-specific needs.
"I considered it a joy and an honour to help document our story in a published forum," says Ralph. Adapting Mentorship across the Professions is published by Detselig Enterprises Ltd.