Ying Ying Lam and Yee Ting Leung, nurses from the Hong Kong Sanatorium & Hospital, completed a two-week stay learning about nursing practice in Canada as part of the Lawrence S. Bloomberg Faculty of Nursing' Global Nursing Scholars Program. They were also joined by Professor Maggie Shepherd of the NHS' Royal Devon University Healthcare, who completed a one-week stay to learn more about the development of nurse researchers and clinical academics in Canada.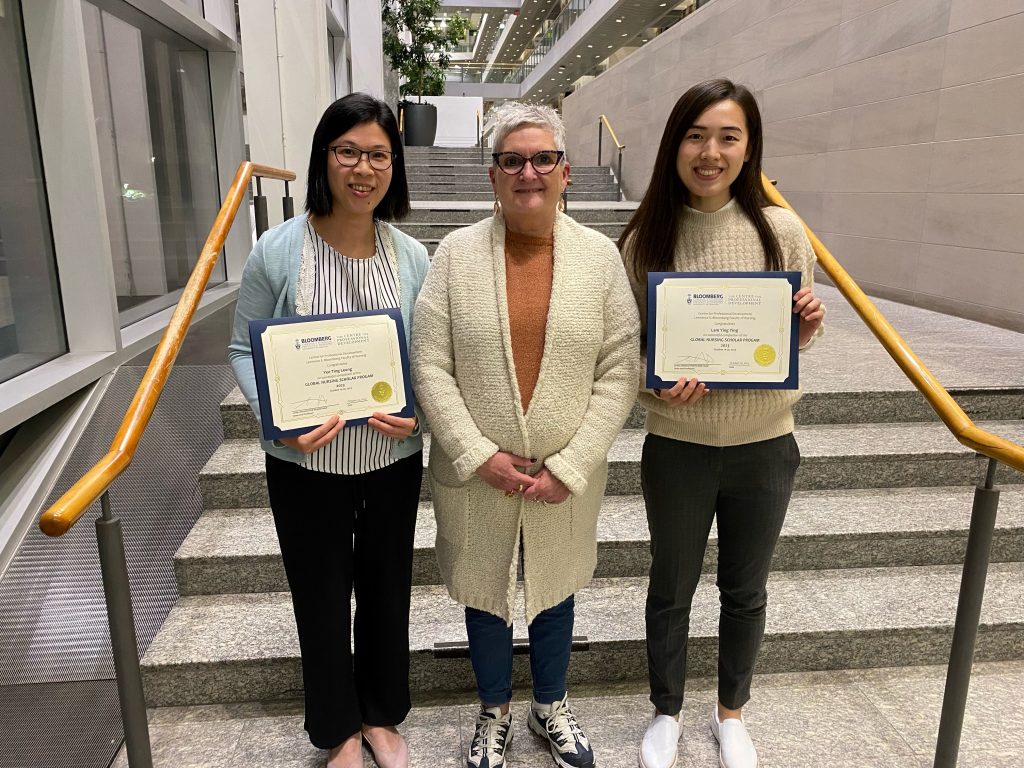 The Global Nursing Scholars Program is offered through Bloomberg Nursing's Centre for Professional Development and provides learners with opportunities to advance their nursing practice, scholarship and leadership capacity, often with additional exposure to the broader Toronto Academic Health Sciences Network (TAHSN).
"The evolution of the Global Nursing Scholars program has continued to allow the Lawrence S. Bloomberg Faculty of Nursing to be a leader in international and interprofessional education and to foster partnerships with nurses from around the world," says Dean Linda Johnston. "
Each scholar develops an individualized program based on their unique academic needs, which can also include taking graduate level courses or continuing education through the Centre for Professional Development, opportunities for clinical observations, and meetings with senior faculty leaders at Bloomberg Nursing.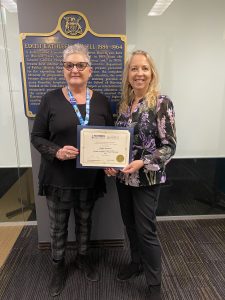 Lam, who is a registered nurse in oncology, completed her two-week observation with a focus on care of oncology patients across many sub-speciality areas including chemotherapy, radiotherapy, invasive device management, and stem cell harvest/transplantation. She also had the opportunity to visit programs at Unity Health in downtown Toronto, and at Sunnybrook Health Sciences Centre, exploring nursing training programs within her particular speciality.
Leung is an advanced practice nurse specializing in perioperative and anesthesia nursing, with a background in cardiovascular perfusion. During her two week observation, Leung focused on surgical procedures through pre-op, intra-op and post-operative phases of care. She says she learned a tremendous amount from her placement opportunities at both the Hospital for Sick Children and Mount Sinai Hospital where she learned more about pediatric and adult care.
Professor Shepherd, who is also the Associate Director of Research at the University of Exeter, has led initiatives through the NHS Trust to deliver a nursing, midwifery, allied health professions and health care scientists research strategy within her organization. With her clinical expertise in monogenic diabetes, Professor Shepherd completed a one-week observation at Bloomberg Nursing, with a presentation she gave to the Maximize your Research on Obesity and Diabetes (MyRoad) interprofessional regional health team on Recognizing and Treating Monogenic Diabetes.
Learn more about the Global Nursing Scholars Program.