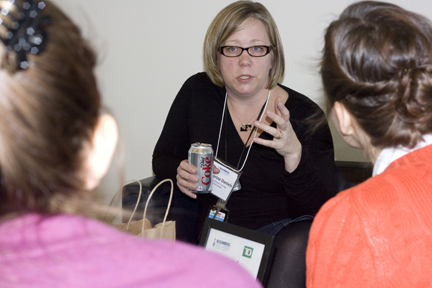 In the lounge at the Health Sciences Building, second-year BScN students were joined by some first-year peers for a glimpse at what some of their futures may hold. The 3rd Annual Alumni Mentorship Lunch is presented by the Bloomberg Faculty of Nursing to provide undergraduate students the chance to meet alumni in various fields of nursing. With most of the participants just a few months away from entering the profession, this is an excellent opportunity to look at the many paths a career in nursing affords.
The event, sponsored by TD Canada Trust, includes a complimentary lunch and the chance to meet with two nurses who offered to be alumni mentors. Each 20-minute session pairs a mentor with a maximum of seven students who showed an interest in that nurse's specialty; nurses share their experiences and students are encouraged to ask questions. In addition, communication between the matches remains open for at least two weeks after the lunch for students to make further enquiries. The event is now a Faculty staple following notable success and glowing reviews by participants in recent years.
Hot Topics
The mentors' backgrounds and current positions varied widely, which allowed them to impart their experiences and advice on a broad range of topics. The 11 sessions included nurses that could speak to the following:
1. Associate Chief of Nursing, Practice – The Hospital for Sick Children
2. Nurse Practitioner – Adult Palliative Care
3. Manager – Tuberculosis Program
4. Quarantine Officer – Public Health
5. Nurse Practitioner – Urology
6. Clinical Leader/Manager
7. Nurse Practitioner – Crisis and Psychosis Program
8. Clinical Nurse Specialist – Ambulatory Internal Medicine
9. Nurse Practitioner – Stroke Prevention Clinic
10. Research Scientist – Toronto Rehabilitation Institute
11. Chief Nursing Executive – Women's College Hospital
At A Glance
Joy Marshall, BScN 7T2, ponders the ethical implications of her job regularly. She is the manager of the tuberculosis (TB) program at York Region Public Health. One question that can arise is: "What do you do when someone has an infectious disease that cannot be cured?" This one, Marshall said, keeps her up at night. Students were riveted by not only her professional experience, but also her extensive knowledge of TB globally, including its history and various treatments. "I wish they had done this when I was graduating," said Marshall. "It's great to open doors and windows, and I'm happy to open some windows."
Joanne Bignell, MN 0T2, makes herself available to patients and their families to make treatment easier. "I love my job," said the nurse practitioner (NP). She works in the crisis and psychosis program at The Hospital for Sick Children. In paediatrics, she explained, you treat the child and their entire family, which is a method that appeared to appeal to several of the students listening. Furthermore, with the expansion of scope of practice for Extended Class nurses (NPs) due to come into effect on July 1, Bignell spoke to the students of the impact of admitting privileges on her practice and how she will be in a position to further impact their treatment and recovery.
Beatrice Odhiambo, BScN 0T9, is a quarantine officer – public health at the Public Health Agency of Canada (PHAC), Toronto Pearson Airport. While completing her degree, she realized her strength did not lie in hospital practice. However, her position is just one example of the many possibilities BScN training affords its graduates. Her attention to detail comes in handy when dealing with the minute legalities of jurisdictions and isolation as she tracks those who may be carrying a communicable disease. Having recently graduated, she also wishes this program had existed because networking is key to any career.  "This is a good way to meet hiring professionals from the field," said Odhiambo. "It also helps remove some of the timidness new graduates can experience."
Jonathan Fetros, MN 0T9, a clinical leader/manager, specialty clinics and palliative care services at St. Michael's Hospital, is one of those influencers Odhiambo mentioned. He recommended students get the education that meets their aspirations, and asserted that lateral moves within an organization could be as satisfying as moving up the ladder depending on the individual. In his position, Fetros applies conflict management skills while enhancing interprofessional collaboration.
Similarly, Jennifer Stinson, MScN 9T2, PhD 0T6, drew on her experience as a nurse researcher to enlighten the students in her groups. The NP at The Hospital for Sick Children's no. 1 tip: Do research all along the way to prepare for a PhD, if that's your goal. Become a researcher.
Other mentors included:
Pam Hubley, acute care nurse practitioner diploma 9T5, associate chief of nursing practice at SickKids
Sheila Deans-Buchan, MN 1T1, NP – adult palliative care at St. Michael's Hospital
Catherine Daniels, BScN 9T6, Post-MN 0T4, NP with the urology division at SickKids
Leanne Verscheure, BScN 9T2, a clinical nurse specialist in ambulatory medicine and geriatrics  at Mt. Sinai Hospital
Tamara De Craemer, MN 1T1, NP in the stroke prevention clinic at North York General Hospital
Jane Mosley, BSc 8T3, MScN 8T8, chief nursing executive, chief health disciplines and professional affairs at Women's College Hospital
The View
"This was a wonderful opportunity to get a picture of the diversity and possibilities in nursing," said Carolina Rodriguez, Class of 2012.
Stephanie Crump, Class of 2012, agreed. "This was a fantastic opportunity to hear about the journey of different people from school to where they are now," she said. "It provided a better appreciation and understanding of opportunities in the fields."
Sarit Shor, Class of 2012, had the chance to speak with three of the mentors, making connections and even being invited to send her resumé to one of them. "I got to know people on the inside and the got to know me," she said.
One thing hasn't changed – most only wish there was more time to spend with their fascinating mentors.
---
The Alumni Mentorship Program is developed in partnership with TD Canada Trust.