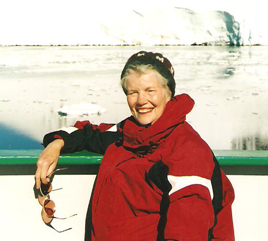 The Bloomberg Faculty of Nursing extends its sincerest sympathies to the family and friends of Dr. Jacqueline Sue Chapman, professor emerita, who succumbed to illness on July 9, 2009 at Lakeview Manor, in Beaverton, Ontario.
Lauded by many as an inspiration to nursing, Chapman was one of Canada's most noted nurse researchers and devoted professors.
Chapman was the first nurse in Canada to be awarded the prestigious National Health Research Scholar Award, when nursing research was in its infancy, says Dr. Dorothy Pringle, professor emerita and a former dean of nursing.
"This was hugely significant," says Pringle. "Most schools back then weren't doing any research. But Jacquie was a well-trained researcher. She gave nursing a 'toe-hold' in research enterprise in Canada."
Among her many honours, Chapman was named an American Nurses Foundation Scholar and was a founding fellow of the Nightingale Society.
Sue Bishop, MScN 9T6, remembers her former teacher as compassionate, caring and involved. "She encouraged grad students to meet in groups to share ideas, and she even invited us to her home in her spare time to bounce ideas around," says Bishop.
Chapman's interest in her students and "her incredible leadership" influenced Bishop to pursue a PhD, and she is now an assistant professor of nursing at Ryerson University.
Bishop credits Chapman for making a profound impact on her, and for taking Chapman's inspirational methods to the nursing students Bishop now teaches today.
"Jacquie was there with us and for us," says Bishop, "and I'm trying to do the same for my students."
Chapman obtained her BSN from UBC in 1958. She quickly advanced to head nurse roles and then to instructor positions at UBC and at several American universities.
She earned her MSN from Case Western University in Cleveland and her PhD in nursing from New York University. Her doctoral supervisor was Dr. Martha Rogers, a prominent nursing theorist. Chapman's doctoral studies led to care improvements in neonatal nurseries.
"Her highly innovative study of the health effects of auditory stimulation for preterm babies was at the forefront of a whole new area of research," says Dr. Ellen Hodnett, professor and former colleague. "It subsequently led to major environmental changes to North American neonatal intensive care units."
She became a full professor at the University of Toronto and was a part of the team that helped establish the PhD program here.
She was an ardent, but quiet, supporter of U of T, and was an active member of many faculty committees.
"She was on all the management committees because her judgment was so good," says Pringle, "and she knew how to train PhDs."
Ill health, unfortunately, forced her to retire early in 1996, just three years after the Faculty took on its first doctoral student.
In retirement, she became an active member of her church and community, sharing generously in the lives of those around her.
She maintained a special passion for infants, children and education. She was an ardent traveler (she visited the Arctic and Antarctica) and enthusiast of the arts.
She will be remembered fondly and missed by many, particularly by all the "grandchildren of her heart."
A memorial service will be held on Sunday July 19, 2009 at 2:30 p.m. in the St. Andrew's United Church. 523 Simcoe Street Beaverton, Ontario. If so desired memorial donations to the St. Andrew's United Church would be appreciated. Funeral arrangements entrusted to the Mangan Funeral Home, Beaverton, Ontario (705-426-5777).