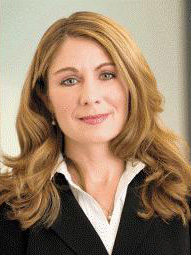 We are proud to announce Dr. Cindy-Lee Dennis, BScN 9T1, PhD 9T9, has been appointed the Shirley Brown Chair in Women's Mental Health Research based at the Women's College Research Institute (WCRI). She is the first nurse to receive the appointment since the chair was created 15 years ago.
The research chair was established in collaboration with the University of Toronto and the Centre for Addiction and Mental Health (CAMH), and is designed to foster women's health research efforts at its three founding institutions. As Shirley Brown Chair, Dr. Dennis will offer leadership to an internationally recognized program of research, provide a focal point for advocacy on women's mental health issues and play a critical role in the drive to improve women's mental health in Canada by investigating the treatment and prevention of serious mental illnesses.
"I'm excited about this new Chair and the increased collaborative research opportunities it provides," says Dr. Dennis. "I hope it will increase my international profile and further my scholarly leadership in the prevention and treatment of depression among pregnant and postpartum women."
Dr. Dennis is a Professor at the Lawrence Bloomberg Faculty of Nursing and holds a Canada Research Chair in Perinatal Community Health. She is currently investigating the prevention and treatment of postpartum depression. Prior to this chair award, Dr. Dennis held a New Investigator Award from the Canadian Institutes of Health Research (CIHR) and a provincial Ontario Ministry of Health and Long-Term Care Career Scientist Award. She has more than 70 peer-reviewed publications related to diverse maternal and infant health outcomes; co-authored a best-selling book for health professionals caring for women with postpartum depression; and developed the Breastfeeding Self-Efficacy Theory and corresponding Breastfeeding Self-Efficacy Scale, which is being used internationally in 20 different countries.
The Chair was funded by family and friends of Shirley Brown to honour the young lawyer who succumbed to severe depression in 1996. Its mandate is to foster women's health research efforts, provide a centre for advocacy on women's mental health issues and inspire junior colleagues. This is one of seven endowed chairs and professorships held at Women's College Hospital Foundation, and is to be held for five years with the possibility of renewal for another five years.
A reception was held at WCH in March to celebrate the appointment.