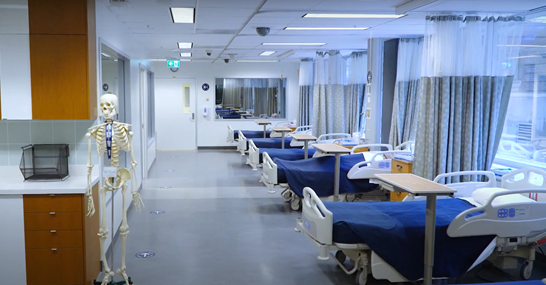 Thanks to generous funding provided by donors and the University of Toronto, the Lawrence Bloomberg Faculty of Nursing's state-of-the-art simulation lab has received a significant upgrade. The new additions include two community health spaces which will provide nursing students an opportunity to shift their learning beyond the walls of hospital and acute care settings, and experience caring for those in the community.
"This is an exciting initiative for both undergraduate and graduate nursing education at U of T," says Linda Johnston, Dean of the Lawrence Bloomberg Faculty of Nursing. "Our role as the number one nursing school in Canada is to ensure our students are prepared for any nursing career pathway. We have recognized the growing complexity of delivering care to people in their homes and in community spaces. Our upgraded simulation lab will give students the capacity to expand their skills and become comfortable and competent in delivering care as part of interprofessional health teams or as independent health care providers."
The newly renovated community health spaces feature a wheelchair accessible simulated apartment setting, complete with a bed, a furnished living area and a bathroom that allows students to navigate caring for people in their own homes. Also new, is a clinic setting, which simulates the experience of caring for patients who attend primary care clinics in the community or who are outpatients of acute care settings, complete with exam tables and diagnostic tools.
"I'm excited as an educator because these new spaces give me a lot of opportunity to learn as well and create new simulations for our students to help them grow and develop as nurses," says Erica Cambly, an associate professor, teaching stream at the Lawrence Bloomberg Faculty of Nursing.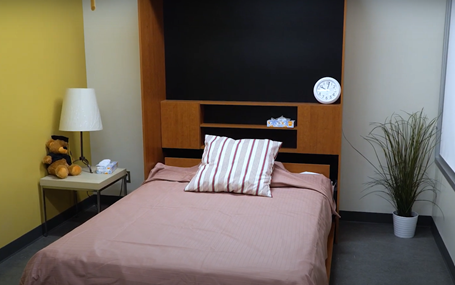 Some of the new simulated scenarios in the home will include palliative care, maternal and child health visits, wound care, mental health counselling and assistance with daily activities. Within the clinic setting, students will be able to practice their primary care skills in relation to a variety of interventions such as vaccinations, health promotion, diagnostics, and the ability to familiarize themselves with evolving technology as virtual care becomes another component of their health care responsibilities.
"There is a great deal of enrichment in a student's learning through the simulation lab experience," says Joanne Louis, an assistant professor, teaching stream at Bloomberg Nursing and a simulation lab instructor. "Within this space, students are not only given an opportunity to integrate their knowledge into practice, but they are also given a supportive environment to try new skills, to role play with their peers, and to ask questions of faculty when they need that extra guidance and assurance."
Through the renovation, community health nursing is being brought to the forefront of the simulation lab experience for nursing students. Community health nursing takes places in a variety of settings from the home to agencies, shelters, and clinics. In addition, this new learning environment provides a unique opportunity for students to practice adapting their critical thinking and clinical care skills beyond the controlled acute care environment.
"There is some unpredictability in providing care in community settings or in someone's home where the environment is different or changing and where flexibility is needed to meet the patient's needs," says Laura Fairley, who is also an assistant professor, teaching stream at Bloomberg Nursing and an instructor in the simulation lab. "The new community health spaces in our simulation lab provide that opportunity for our students, to become adaptive, critical thinkers in addition to great health care providers."