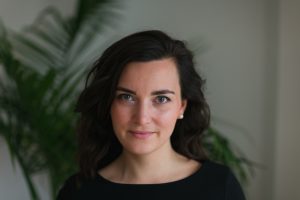 Post-doctoral research fellow Tieghan Killackey has received a Canadian Institutes for Health Research (CIHR) Health Care Professional Fellowship grant, supporting her training as an emerging clinician scientist. Killackey, who completed her PhD at the Lawrence Bloomberg Faculty of Nursing in 2020, is evaluating the effectiveness of a virtual peer mentorship program for youth with congenital heart disease, supporting them as they transition out of pediatric care.
"This type of peer mentorship has been shown to improve health outcomes," says Killackey. "There is a psychological component to living with a chronic disease, and many young patients want to talk to and learn from someone who has lived through those same challenges. It is a gap in care that healthcare providers and parents just can't fill."
In collaboration with a new nurse-led Congenital Heart Disease Transition Clinic at SickKids Hospital, Killackey and her team, including supervisors Dr. Sara Ahola-Kohut and Dr. Jennifer Stinson, Professor at the Lawrence Bloomberg Faculty of Nursing and Co-Director of the SickKids Centre for Pain Management, Research and Education, will align their research program with the focused work of this clinic in preparing youth to transition out of pediatric settings into adult care.
Following intensive training around privacy, confidentiality and principles of communication, young adult mentors who have themselves successfully transitioned into adult care, will be matched with mentees between the ages of 14-17 and connect through a series of video calls or text messages once a week over a 15-week period.
Despite having proven benefits in other populations of youth with chronic illnesses, there is no study to date, Killackey says, that has examined the impact of such a peer mentorship program for those with congenital heart disease, a common birth defect that affects 1 in 100 Canadian children. Youth living with this condition can suffer from a range of physiological symptoms ranging from mild to very severe. Having the opportunity to connect with peers is something that youth are looking for, especially as COVID-19 restrictions have limited opportunities for in-person social support.
"Congenital heart disease is something these youth will have to live with and manage for their entire lives," says Killackey, "which is what makes this virtual mentorship program vital for them as they transition into adult care."
Killackey notes that because care can be more intensive at the pediatric stage of this disease (such as requiring various surgeries and procedures), some adolescents may feel that their condition has stabilized by the time they are ready to transition to adult care, which can make them far less likely to attend follow-up clinics in the adult setting. This lack of follow-up care can prove increasingly problematic for these youth, with some ending up in emergency care or needing hospitalization, making the need for a mentorship program that focuses on this transitory phase even more necessary.
"We also want to support the autonomy of these youth through the mentorship program by having them schedule their own mentorship calls and allowing them the freedom to discuss whatever they feel is most important," says Killackey. "Learning that type of goal setting and self-management skills through the mentorship relationship is key to successful care transitions."
As an advanced practice nurse with a background in cardiology, Killackey is passionate about this population and improving care transitions across the life span. Supporting patient autonomy and decision-making through advance care planning was a key focus throughout her PhD and as a recipient of this competitive CIHR fellowship, Killackey is looking forward to bridging the gap between clinical care and research and having the additional support to see this project into its next phase.
"Essentially we hope to demonstrate the effectiveness of this peer mentorship program for youth with congenital heart disease, and partner with the Canadian Congenital Heart Association as we look for ways to scale up across Canada," says Killackey. "As it is delivered virtually, there is huge potential for this program to fill a gap and provide accessible peer support to youth across the country."
The competitive nature of CIHR funding meant that being awarded this fellowship came as a surprise to Killackey, who is looking forward to the opportunity to expand her training as a nurse clinician scientist.
"The importance of this project being recognized by CIHR is really exciting," says Killackey, who will now be funded for an additional 3 years of post-doctoral training, "it's very encouraging to be given this opportunity to excel and develop my program of research as a clinician scientist."