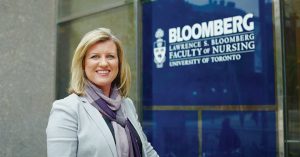 In the world of hereditary breast cancer research, Dr. Kelly Metcalfe is a leading scientist. Her integral role in investigating the clinical and psychosocial implications of genetic testing for BRCA mutations in women and men, has earned her the Wendy Lack Women of Action Scientific Award.
Presented by the Israel Cancer Research Fund, this is the first time the award has been given to a nurse and illustrates the important impact of Metcalfe's work on genetic testing and breast cancer research.
"Women's health and research has always been my passion of mine and being a nurse scientist allows me to bring a unique perspective to an area of research that can help countless more women and their families who receive a breast cancer diagnosis," says Metcalfe, professor, and associate dean of research at the Lawrence Bloomberg Faculty of Nursing, and senior scientist at Women's College Research Institute.
"Dr. Metcalfe is the ideal recipient of this award as she has devoted her scientific career to exploring better treatment paths for women diagnosed with breast cancer and helping them navigate the overwhelming and difficult decisions that must be made about their treatment," says Bryna Goldberg, ICRF International Chair.
Watch the virtual award ceremony.
The Wendy Lack Women of Action Scientific Award was named in honour of Wendy Lack, a dynamic woman and successful immigration lawyer who refused to let an early breast cancer diagnosis at the age of 31, slow her down. This award further recognizes the important research in genetic testing for BRCA mutations, that help women make decisions about their health.
"Dr. Metcalfe has been instrumental to the University of Toronto's research in this area," says Dr. Steven Narod, Director of the Cancer Research Institute at Women's College Hospital. "This award is a further testament to her outstanding research abilities and courage to push forward with this integral work over the past two decades."
Some of Metcalfe's most recent work has found that rapid genetic testing, when offered to women at the time of their breast cancer diagnosis, provides them with greater choice in selecting surgical treatment, including a double mastectomy, which can improve survival rates for those with BRCA mutations.
Currently, Metcalfe is examining the role of Direct Rapid Genetic Testing or DRGT with funding from the Canadian Institutes of Health Research. DRGT provides genetic testing and counselling to women at the same time as their breast cancer diagnosis, with limited to no pre-test counselling.
The goal is to decrease the amount of time needed for women to decide about their surgical options and to scale up the option for rapid genetic testing outside of urban centers.