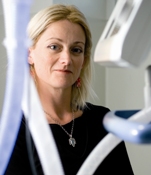 The Canadian Institutes of Health Research (CIHR) has awarded Dr. Louise Rose, Bloomberg Nursing assistant professor and Lawrence Bloomberg Professor in Critical Care, a knowledge synthesis grant to examine mechanical ventilator weaning and contribute to efforts to guide practice and improve outcomes.
Mechanical ventilation is the most common life support therapy used for critically ill adults and children. Premature discontinuation of ventilation carries substantial risk and increased mortality, as well as considerable cost implications. To reduce these consequences, weaning strategies that enable safe and efficient discontinuation of ventilator support are a key international research priority and a major clinical challenge.
Rose's research program will provide information in three areas: 1) the extent to which non-patient factors, such as organizational context and health professionals' attitudes towards protocols, influence the weaning process and consequently patient outcomes since literature suggests weaning protocols may reduce the duration of mechanical ventilation and intensive care unit stay; 2) the effectiveness of commercially available, automated weaning systems in reducing the duration of ventilation as no summary data currently exists; and, 3) optimal weaning methods that improve outcomes for patients who remain ventilated for more than 21 days.
Through an end of grant workshop, publication and presentation of the syntheses findings, Rose and her team will engage other investigators and clinicians to explore barriers to knowledge application and consider them during the development of interventions. To ensure uptake and use of this information at the frontlines of decision-making, regular highlight reports of the research results will be provided at each phase of the project. The National Community of Excellence in Prolonged and Long-Term Mechanical Ventilation will also be engaged for knowledge translation and dissemination to clinicians, patients, families and policy makers. Finally, the group will plan a dedicated website, resources and information related to this patient population, informed by the syntheses.
The CIHR knowledge synthesis grant supports teams of researchers and knowledge users in producing knowledge syntheses that will contribute to the use of synthesized evidence in decision-making and practice.
"Knowledge translation is a dynamic and iterative process that includes the synthesis, dissemination, exchange and ethically-sound applications of knowledge to improve the health of Canadians, provide more effective health services and products, and strengthen the health care system." — CIHR