On September 21, the Lawrence Bloomberg Faculty of Nursing recognized the outstanding contributions and exemplary commitment of our teaching faculty and preceptors through the presentation of Bloomberg Nursing's Teaching Awards.
The awards, which are both peer and student nominated, recognize faculty and graduate students for excellence in clinical instruction, online education, precepting and more.
"Every one of our faculty members are responsible for the high caliber of learning our students receive at Bloomberg Nursing," says Linda Johnston, Dean. "It is a privilege to be able to recognize their commitment to our students through our teaching awards."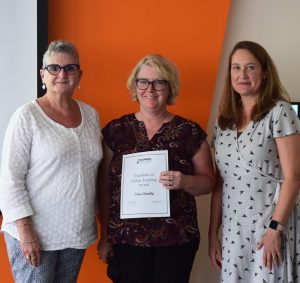 Erica Cambly (pictured left with Dean Linda Johnston and Associate Dean Academic Robyn Stremler), is an assistant professor in the teaching stream and was recognized with the award for Excellence in Online Teaching. Cambly's student nominators lauded her unique ability to create a remote learning experience that promoted meaningful and in-depth discussions as well as embraced student-centred learning.
Preceptor Maria Fe Seveilleno was recognized by both students and faculty advisors for her incredible support in facilitating knowledge, and modelling what it means to be a nursing leader. As a preceptor, Fe Seveilleno oversees students in a clinical setting, and plays an integral role not only through mentorship but by being a key bridging point between in-class instruction and the clinical environment.
Described by student nominators as having an outstanding ability to connect with learners, and cultivate a positive, safe and collaborative learning environment, Sarah Ibrahim who is also an assistant professor in the teaching stream, is the recipient of the Early Career Teaching Award. This award recognizes a faculty member who demonstrates an outstanding and consistent performance in teaching.
A full list of award winners is below, congratulations to all of our faculty nominees.
Stacey Lim: Betty Burch Mentorship Award
Charlene Chu: Award for Teaching that Intellectually Challenges Students
Erica Cambly: Excellence in Online Teaching
Dafina Ademi: Undergraduate Entry-Year Excellence in Clinical Instructing Award
Maria Fe Seveillano: Excellence in Precepting: Undergraduate Award
Michelle Weening: Excellence in Precepting: Undergraduate Award
Sandra Merklinger: Graduate Teaching Excellence Award
Sarah Ibrahim: Early Career Teaching Award
Ray Lam: Equity and Diversity Award
Julia Kim: Excellence in Precepting: Graduate
Laura Buckley: Teaching Assistant Award
Rozina Somani: Teaching Assistant Award