On June 11th, Bloomberg Nursing hosted a book launch that celebrated the amazing contributions black Canadian nurses made to the profession, commemorating the significant inroads these women made for their contemporary and future colleagues. Dr. Karen Flynn's Moving Beyond Borders: A History of Black Canadian and Caribbean Women in the Diaspora is the first book-length history of black health care workers in Canada.
Flynn delves into the experiences of 35 postwar-era nurses who were born in Canada or who emigrated from the Caribbean. Interweaving oral histories with archival sources, the narratives follow these women on their paths to becoming professionals and community activists. The book highlights several of Bloomberg Nursing's most distinguished alumni and nurse leaders, some of whom were able to attend the event, including Lillie Johnson, BScN 6T9, and Betty Reynolds Clarke and Daphne Bailey, certificates in public health nursing 5T7 and 7T1 respectively.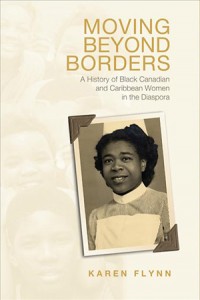 Flynn's mentor, Dr. Kathryn McPherson was also on hand to support the book's launch. An associate professor of history at York University and the director of undergraduate programmes for York's School of Women's Studies, McPherson also served as Flynn's supervisor for her dissertation titled, "Race, Class and Gender: Black Nurses in Ontario, 1950-1980." She praised the scholar for her productiveness and rigor, noting how inspired she is by the intellectual engagement Flynn experiences when working on a project.
"This project was long in the making," began Flynn. But she did it for the nurses we've never heard about, including the early nurses who were initially excluded from Canadian nursing so current health care professionals could learn about some of the lesser known shoulders upon which they stand. She then briefly spoke about the story of Marissa Scott, "the Rosa Parks of Canada," who broke the colour barrier at St. Joseph's Hospital in Guelph. Flynn's research acknowledges the volunteers, community activists and mothers – single and divorced – who provide us with lessons in activism and its many forms. In addition, many of these women, like those present at the launch, force us to rethink our definition of retirement as they continue to be active members of the community.
Pictured on the cover of the book is Johnson who, after earning her bachelor of science in nursing, became Canada's first black director of public health for Leeds-Grenville and Lanark district. A Distinguished Alumni Award winner (2011), she also founded the Sickle Cell Association of Ontario and influenced the Ontario Ministry of Health and Long-Term Care's decision to include sickle cell disease on the list of 28 genetic diseases for universal newborn screening.
Flynn is an associate professor in the department of gender and women's studies and the department of African-American studies at the University of Illinois. She received her Master's and bachelor's degrees in history from the University Of Windsor. A major contributor to immigration literature, her focus has often been on women and work while never ignoring the role family plays in their narratives. Flynn is currently collaborating with Bloomberg Nursing's Dean Sioban Nelson on a project that rethinks the history of nurses.