The fifth anniversary of the Toronto Addis Ababa Academic Collaboration (TAAAC) and the tenth anniversary of the Toronto Addis Ababa Psychiatry Project (TAAPP) was a momentous milestone celebrated with a global health symposium at Hart House.  On Friday, November 8, 2013, dozens of attendees filled the Great Hall to learn more about the partnership between U of T and Addis Ababa University.  Bloomberg Nursing Lecturer Amy Bender presented and highlighted the contributions nursing has made, at the academic level, towards strengthening the health system in Ethiopia.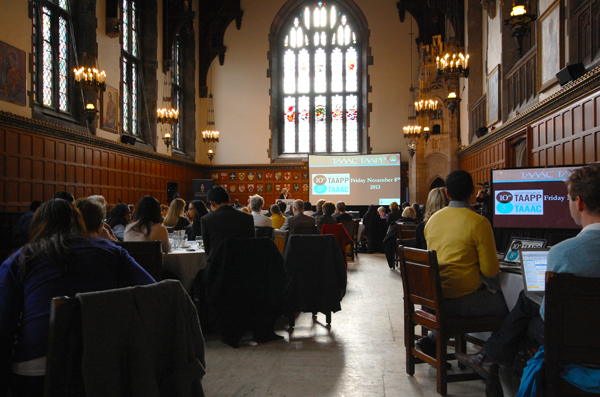 "The dedication of my TAAAC colleagues and colleagues in Ethiopia have ensured that the graduate nursing curriculum at Addis Ababa University is strong and sustainable," said Dr. Bender, who is preparing to head back to Ethiopia to assist in ushering in a Critical Care course in early 2014.  "It's wonderful to see TAAAC and TAAPP celebrate these anniversaries and I'm looking forward to how we can further work with Addis Ababa and their nursing curriculum needs."
Presenting on the history of the partnership, which began in 2007 and has graduated approximately 100 MScN students since 2010, Dr. Bender showcased the collaboration and its growth from a research focus to clinical care focus.  Acknowledging the work of Amsale Cherie the research lead and director of the Addis Ababa University Department of Nursing (AAUN), and Asrat Demissie, the former director of AAUN, Dr. Bender enthused on the commitment of U of T, Bloomberg Nursing and Addis Ababa to ensure that nursing students have an educational background that will make them health care leaders and advocates in their community.
The all-day symposium concluded and a gala dinner and reception took over the evening.  Bloomberg Nursing faculty including Lecturer Amy Bender, Associate Professor Louise Rose, co-ordinator of the critical care curriculum, Lecturer Shan Mohammed who has co-taught qualitative research in Addis, Associate Professor Elizabeth Peter, Associate Professor Denise Gastaldo were in attendance.  Also joining the celebration were Adjunct Faculty member Vanessa Wright, who is now the co-coordinator of the critical care curriculum, TAAAC-Library lead Sandra Kendall and Gerstein Librarian Carla Hagstrom.  An overwhelming success for all involved, the day was truly a special occasion.