2020 and 2021 Bloomberg Nursing graduates returned to campus this month to celebrate in-person at U of T's December graduation celebrations.
For many like Denika McPherson, a Master of Nursing graduate (21') returning to walk across the stage at Convocation Hall in person, in front of family and loved ones, was an opportunity to celebrate not only her degree, but also their support during some of the most challenging years of her time as a nurse.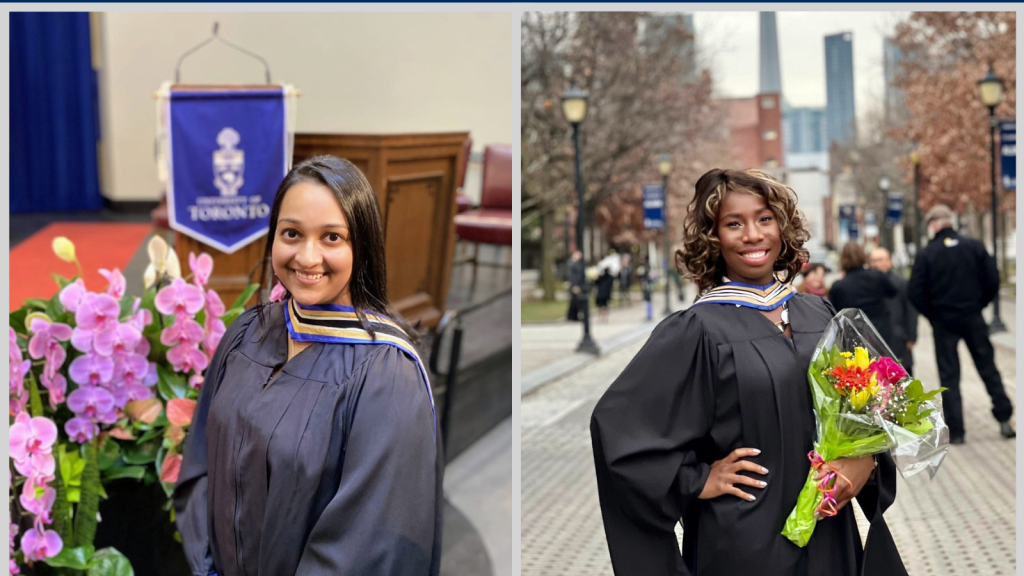 As a student, McPherson worked as a critical care nurse in a large GTA hospital, right at the height of the pandemic. In 2021, she shared with Bloomberg Nursing some reflections on that stressful time including how she managed to maintain her studies and her mental health, as she prepared to graduate virtually.
Being able to return in person and celebrate is something McPherson says also fosters a sense of community, and given all that she and her fellow nursing peers have experienced in recent years, she says it is a good reason to come together under more positive circumstances. It is also a moment she says, to demonstrate the importance of representation.
"Attending the in-person convocation ceremony is important because representation and diversity, equity and inclusion (DEI) of historically marginalized or excluded groups matters. I hope others seeing me cross the stage are inspired," says McPherson.
Dhivya Eapen, who also graduated with her Master of Nursing in 2021, knew she needed to return for the in-person celebrations, because of the chance it offered her to reconnect with her peers and faculty, many of whom she only saw virtually towards the end of her program. To be able to celebrate this personal achievement with family and friends was also a motivating factor.
During her time in the program, Eapen had just one term left to complete her degree when the pandemic took hold, and she shared with Bloomberg Nursing in 2021, what that was like juggling the shift to online learning while caring for an infant and helping her older children navigate virtual schooling. While she also bore witness to the burn out facing her colleagues and clinical instructors during her placement, she continued to focus on "knowing her why."
"The primary thing for me, was to press on, keep going, and know my why. Why am I doing this, why am I a nurse? And to keep coming back to that," says Eapen. "I feel honored to be a part of these celebrations this week, that were paused but not passed over because of COVID pandemic restrictions."
Eapen is currently on maternity leave having welcomed another little one into the family, and is looking forward to not only returning to her clinical practice but continuing her education in the area of leadership to improve quality of care and caring for carers, both healthcare workers and nursing students alike. Eapen is an alumni representative for the Bloomberg Nursing Faculty council.
McPherson says she is tremendously proud to be a member of the U of T alumni community, and since her graduation has been using her leadership capacity to engage students through mentorship both at the Faculty of Nursing and through the Summer Mentorship program with the Temerty Faculty of Medicine. Her work keeps her busy, but she still finds time to contribute to making the nursing workforce a better place for future nurses, most recently as a stakeholder contributor to RNAO, and The Business and Higher Education Roundtable for diversity, equity, and inclusion in work-integrated learning.
As for the future, McPherson reflects on the book How Will You measure your Life?
"Our class persevered through a demanding program and a demanding profession at the height of a global pandemic," says McPherson. "I firmly believe that what lies behind us and what lies ahead of us are tiny matters compared to what lies within us."