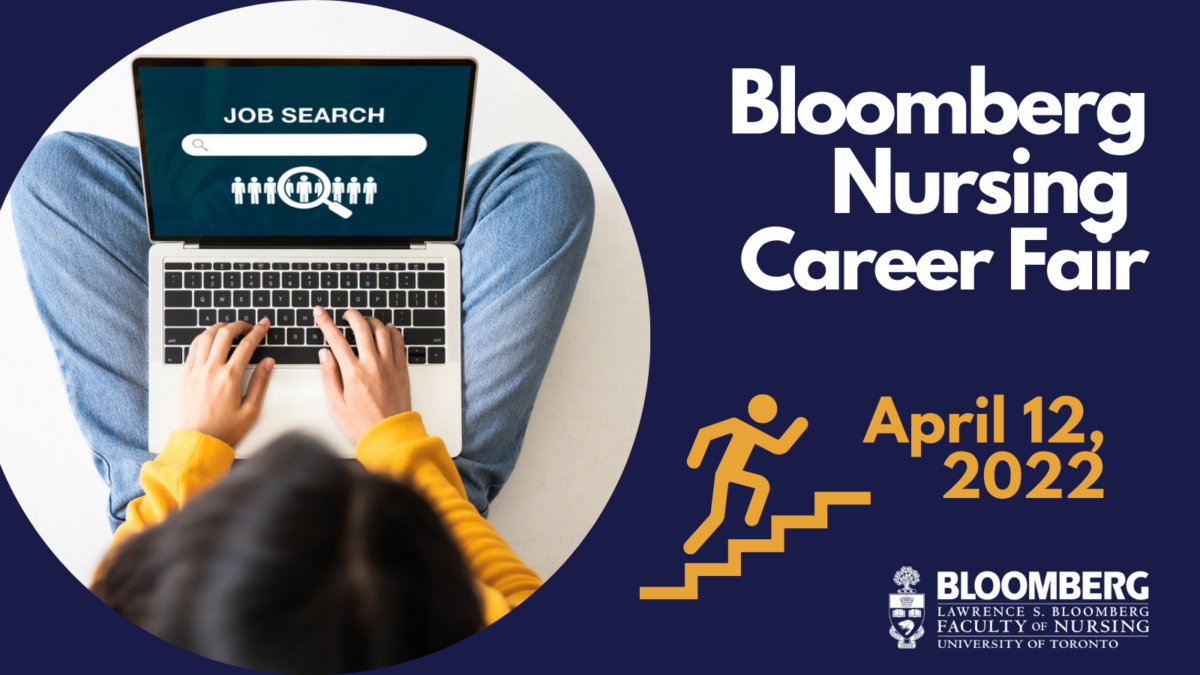 Bloomberg Nursing Career Fair

Find your place in nursing.
Looking for meaningful work and/or volunteer opportunities? Interested in connecting with key employers? Attend the Bloomberg Nursing Career Fair to grow your knowledge and skills!
Tuesday, April 12, 2022
11:30 AM – 6:00 PM (Undergraduate students)
1:00 PM – 5:00PM (Graduate students)
1:00 PM – 6:00 PM (Networking sessions for all students)
Online via Zoom - a link will be sent to all registrants on Monday, April 11. 
About the Career Fair
The Bloomberg Faculty of Nursing supports students as they build their future in our changing world. Now more than ever, Career Fairs are an incredible opportunity for students to engage with employers and explore future employment opportunities. Whether it be students who know exactly what they want to do upon graduation, or students who have no idea, the fair is an explorative event for students to ask questions and learn more about what opportunities and organizations are out there which align with their career goals. 
Join us to:
Connect with representatives from organizations who are recruiting for part time, full time, community, and externship opportunities

Gain important information related to recruitment processes to maximize your applications

Undergraduate and graduate students are invited 
Career Fair Format 
There will be two Zoom channels running concurrently, one for recruiting Bloomberg BScN students, and one for Bloomberg Graduate (MN/NP/Doctoral) students. Employers will provide a 5-15 minute presentation regarding their organization, the roles available, and tips for applying to their organization. Both events will be recorded and posted internally for students who are unable to attend. Employers presenting in both BScN and Grad channels will be scheduled for two separate windows of time. There will also be a Networking Zoom with breakout rooms with the purpose of connecting you with employers more directly. Please note that the Networking Zoom will not be recorded.  
Bloomberg Nursing Career Fair Schedules
BScN Career Fair Schedule – [PDF]
Graduate Career Fair Schedule – [PDF]
Networking Sessions Schedule – [PDF]