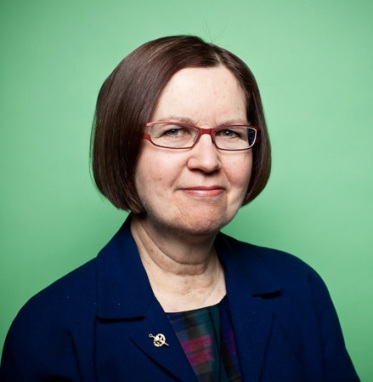 The Bloomberg Faculty of Nursing is saddened with the sudden passing July 5, 2009 of Betty Burcher, public health nurse, senior lecturer, colleague, alumna and friend.
She began at the Bloomberg Faculty of Nursing in the fall of 2002, after a stellar career spanning more than 30 years as a public health nurse, a career that included senior management positions in the teaching health unit, health information and research, and also health planning at Toronto Public Health.
"We knew we had scored a coup when this high-powered public health manager chose to teach with us," says Maureen Barry, a close friend and senior lecturer at the Bloomberg Faculty of Nursing.
"Betty brought the same dedication and even fanaticism to the formation of nurses as she brought to public health."
But she never left her public health career entirely. Her indefatigable work during SARS supported faculty and students through the unexpected crisis, and her contributions to pandemic planning will not be forgotten.
"We had many students in quarantine and two with SARS. Betty worked tirelessly through that time," says Barry. "I remember calling a taxi late one night, pushing an exhausted Betty and a big box of papers into the back seat of the taxi, and telling her not to come in the next day. I am sure she did not listen."
Burcher earned a sociology BA (Honours) in 1971 from the University of Waterloo and a BScN 7T6 and MSc 9T2 from the University of Toronto. She demonstrated tremendous collegiality and vision within the faculty and with interprofessional education colleagues.
Burcher was an outstanding teacher, supporter and mentor of students, before and after they graduated, and a recipient of several teaching awards. She taught at the undergraduate and graduate levels.
"She never explicitly stated it, but Betty was the kind of teacher you knew you could approach at any time," says recent nursing graduate, Hilary Hall. "She gave so freely of her time to student initiatives with very little fanfare," says Burcher's former student.
"I think of her patience as a teacher, and her ability to explain concepts in multiple ways," says former student, Jay Bass-Meldrum. "I remember not fully understanding the concept of population health; I was confused as numerous definitions could be found, but she was able to highlight key words and provide practical examples."
"She challenged students to consider the political context within which health care is provided and to advocate for the most vulnerable members of society," says Barry.
Adds Hall: "Betty encouraged me to be aware of the politics of nursing. She talked often of 'hats' and in one conversation would share each moment her 'hat' was changing from faculty, public health to simply nursing colleague in the profession. Her sensitivity to the subtleties of language and her ability to negotiate bureaucracies so effectively were immensely instructive."
Burcher was best known for her passion for public health, politics, social justice and women's rights. She was respected and loved by a legion of friends, co-workers, students and family.
She mentored new faculty members as well. She believed in bringing people into the fold and helping them to get started and to get ahead. For Burcher, it was about building a community of educators.
Her outgoing nature, her passion for life, and her willingness to go above and beyond will be much missed.
"The classrooms and corridors of the nursing building at 155 College Street will be strangely quiet without the sound of her infectious laugh," says Barry.
Our thoughts and condolences go out to her partner, Doug Croker, and her son, Nick Croker, and her many friends in nursing across the University of Toronto campus and beyond.