Each year, Bloomberg Nursing honours alumni with prestigious Distinguished Alumni Awards. It is our privilege to recognize the incredible accomplishments of our alumni, and to highlight their impact within the nursing profession and beyond. These awards were created to recognize the outstanding achievements of our graduates. They represent the dedication our alumni have in providing and improving patient care and serving the communities in which they work and live.
Congratulations to this year's Distinguished Alumni Award winners. We are proud to count you as alumni at the Lawrence Bloomberg Faculty of Nursing.
Dean's Award of Excellence: Mary Pat Armstrong – BScN, '67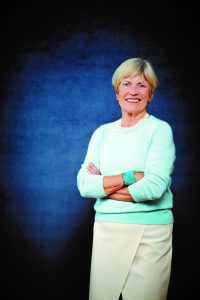 Mary Pat Armstrong has been a committed community volunteer and advocate for nearly 40 years.  She dedicated much of her life and career to founding, chairing and funding several organizations with the aim of bettering the life of children with cancer and children with disabilities. Her passion, enthusiasm and unwavering commitment have led to many profoundly impactful contributions to the healthcare and disability communities in Canada.
She played a key role in establishing the first Ronald McDonald House in Canada (the second in North America). Mary Pat's leadership and vision gave rise to Toronto's Ronald McDonald House and enabled it to grow so significantly that it is now the largest of the 340 Ronald McDonald Houses around the globe.
Mary Pat went on to found Camp Oochigeas in 1982 a camp for children with cancer. Today, Camp Oochigeas hosts over 2,000 children with cancer each year.  On a mission to improve life for people with intellectual disabilities, Mary Pat became involved with a technological project, ConnectABILITY, which helps improve life for people with intellectual disabilities. Inspired by the positive impact that program had on her daughter, Mary Pat partnered with Community Living Toronto to form LIGHTS, a program which assists families in supporting their intellectually challenged sons and daughters to live with a greater degree of independence.
Mary Pat's vision, drive and passion have improved not only the communities in which she works and lives, but Canada as a whole.
Rising Star Award: Connie Cameron – MN '15 2015
Connie Cameron's career has been one of evolving and effective leadership. Hers is a story of early leadership and engagement in advancing nursing practice and demonstrated ability in drawing others into and advancing change. Throughout her career, Connie has demonstrated a self-directed approach to leadership. She recently served as the President of the RNAO Pediatric Nurses' Interest Group
As an established clinician, Connie is a well-respected clinical and operational leader.
A life-long learner, Connie is committed to broadening the sphere of her practice, building her clinical knowledge and applying theory to practice.
Lifetime Achievement Award: Dr. Karen Eisler – PhD, 2009
Dr. Karen Eisler has been a Registered Nurse for nearly 40 years. Throughout her career, she has had a tremendous impact on nursing, nursing leadership and the healthcare system in Canada. Her many contributions have been especially notable in the areas of leadership, administration, and research and teaching.
Dr. Eisler worked as a clinical RN for 20 years in ICU and Emergency in an acute care hospital in Regina, and has worked in administrative and leadership for close to 19 years. She served as the Executive Director of the Saskatchewan Registered Nurses' Association until 2015 and currently is the Associate Dean, Assistant Professor with the Faculty of Nursing at the University of Regina
From her early years as an RN in Emergency/Critical Care settings Karen exhibited caring and excellence in her interactions and interventions with patients, their families, nursing colleagues and other health professionals. She was an early advocate for quality care, enhanced service and patient-centred programs. Karen has consistently been described as positive, enthusiastic, energetic, and committed to the profession and the health and well-being of the public. She is recognized for leading by example, modeling nursing values and professionalism and she is highly valued and respected by her peers provincially, nationally and internationally.
Volunteerism Award: Mary Muter – BScN, '67
Mary Muter has dedicated her career as a full-time volunteer on a wide variety of environmental projects related to the protection and restoration of the Great Lakes ecosystems, the largest freshwater system in the world, in order to ensure the health of the Great Lakes for  current and future Canadians. For over 30 years, Mary has been an outstanding leader and educator, supporting relevant scientific research, writing articles and co-authoring position papers; appearing as a keynote speaker and expert panelist at local, national and international conferences; addressing government agencies and political leaders at the provincial and national levels on policy based on relevant research.
As Chair of the Georgian Bay Great Lakes Foundation, a well-known and influential advocate espousing the protection and restoration of the Great Lakes and particularly Georgian Bay, Mary exemplifies volunteerism. In the past, she has served as Vice chair of the Georgian Bay Association; Chair of the Sierra Club of Canada, Great Lakes Section; and continues as Vice-Chair of Restore Our Water International.
Mary's volunteerism extends beyond Canadian borders. She has served on the International Joint Commission's Public Interest Advisory Group for the Upper Lakes Study. Mary has worked collaboratively with scientists and the International Joint Commission – the binational organization  that regulates water levels and monitoring of the water quality of the lakes and rivers along the border between Canada and the USA. This Commission works in co-operation with a variety environmental organizations throughout Ontario, Canada and the USA.  She has been recognized as a Paul Morris Fellow by Rotary Club International.
Mary continues to utilize her nursing knowledge in the broader context of health and on the need to ensure the sustainability of this mainly finite freshwater  resources for  all Canadians and Americans in the Great Lakes basin.