2017 COUPN Winners Announced
The Council of Ontario University Schools of Nursing (COUPN) celebrates achievements and advancements made in university nursing education and scholarship through its annual COUPN Awards program. The awards are presented to Ontario nursing faculty, students and health programs partners.
The Lawrence S. Bloomberg Faculty of Nursing was well-represented at the 2017 awards ceremony on May 2, with one undergraduate student and one faculty member named as awards recipients.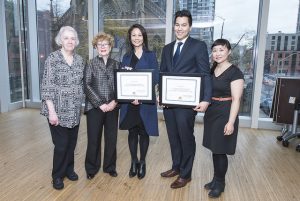 Richard Tang was named the 2017 recipient of the Excellence in Professional Nursing Practice at the Undergraduate Student Level Award. Richard is a 2nd year undergraduate student at Bloomberg Nursing. This award is granted annually to the candidate who has demonstrated excellence in professional nursing practice, leadership, or scholarship as a student in a COUPN baccalaureate nursing program.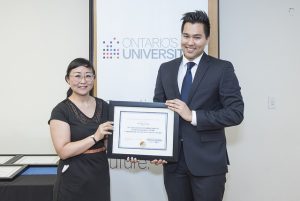 Samantha Mayo was named the 2017 recipient of the New Tenure Stream Faculty Contribution Award.  Samantha is an Assistant Professor at Bloomberg Nursing. This award recognizes the contribution to excellence in teaching by a new tenure stream faculty member in a COUPN School/Faculty.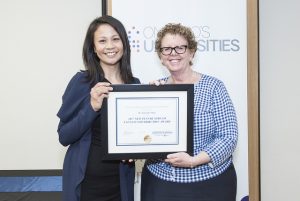 In addition, Toronto Public Health won the Agency Recognition Award having been nominated by Bloomberg Nursing faculty. This award recognizes an agency/unit/service that has supported the education of university nursing students by providing an environment that supports excellence in practice. Toronto Public Health has been a valued partner in the provision of undergraduate and graduate nursing education at the Lawrence S. Bloomberg Faculty of Nursing.
Visit the 2017 COUPN Awards Ceremony photo album for more photos.